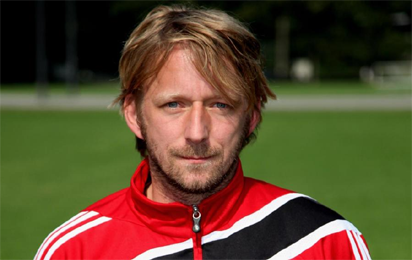 Sven Mislintat
Arsenal have appointed Borussia Dortmund's chief scout Sven Mislintat as their new head of recruitment, the Premier League club announced on Monday.
Mislintat has spent 10 years at Dortmund and is credited with helping to recruit players such as Shinji Kagawa, Pierre-Emerick Aubameyang, Ousmane Dembele and Christian Pulisic.
The 45-year-old German will take up his new role in December, working alongside Arsenal manager Arsene Wenger and chief executive Ivan Gazidis to identify potential new signings.
"We are delighted that Sven is joining us," Wenger said in comments published on Arsenal's website.
"Identifying and developing talent is a core part of our philosophy and Sven has an outstanding track record over many years. We look forward to him taking our existing recruitment approach forwards."
Arsenal's chief scout Steve Rowley has stood down, but will continue to work with the club on a consultancy basis.
"We would like to thank Steve Rowley for all his hard work over many years for the club," Wenger said.
Mislintat's appointment is in line with the promise made by Gazidis to make changes behind the scenes at Arsenal after long-serving manager Wenger signed a two-year contract extension in May.
It has been suggested Mislintat's arrival will pave the way for Arsenal to appoint Dortmund's sporting director Michael Zorc, although Wenger has expressed reservations about working with a sporting director.