By Soni Daniel
Abuja – The Economic and Financial Crimes Commission, yesterday, cried out over the refusal of the Department of State Service to release its officials implicated in the $2.1 billion arms scandal for interrogation.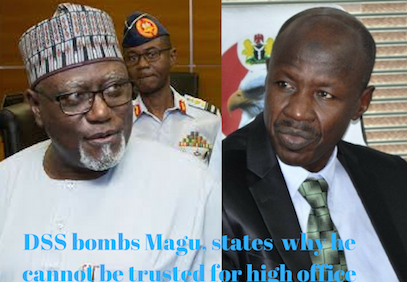 The EFCC in a statement in Abuja, signed by its Spokesman, Wilson Uwujaren, regretted that all other security agencies, including the Nigerian Army, the Nigerian Air force and the Nigerian Navy have all complied with its request and released officers indicted in the arms probe report except the DSS.
The DSS, it was learnt has warned the EFCC not to dare it by insisting that its officers should appear before the anti-graft agency, warning that it had not right to subject its officials to such scrutiny.
But EFCC said on Tuesday that the arms probe is a national matter that was done without prejudice to any institution, group or individual.
Besides, the EFCC said it has the authority to invite anyone for questioning over any financial and economic crime.
The anti-graft agency said, "It is important to state that it is not strange for the EFCC to invite (for questioning) officers of other law enforcement agencies alleged to be complicit in any case being investigated by the Commission.
"But there are protocols in doing this; and part of that protocol is to write to the heads of such agencies, requesting that the officer(s) in question be released to be interviewed.
"In the course of investigating the arms procurement scandal in the Office of the former National Security Adviser, ONSA, Col. Sambo Dasuki, the Commission has had cause to request the release of officers of other security agencies, including the Nigerian Army, the Nigerian Air force, the Nigerian Navy and now the DSS, for questioning. All but the DSS have acceded to this request.
"For the avoidance of doubt, the arms procurement investigation is national in outlook with alleged culprits cutting across the military, security establishments as well as the political class. It is not targeted at any institution.
"Consequently, the insinuation about a revenge-instigated investigation of the DSS by the EFCC over its role in the senate refusal to confirm Ibrahim Magu as substantive chairman of the EFCC is not only specious, but pure mischief contrived for motives that are unclear."
There has been no love lost between the two vital agencies of the government since the DSS wrote to the Senate to stop the confirmation of the EFCC Chairman, Ibrahim Magu over what it called 'security report' which suggested that Magu is tainted, something he has repeatedly denied and claimed that corruption is 'fighting back'.