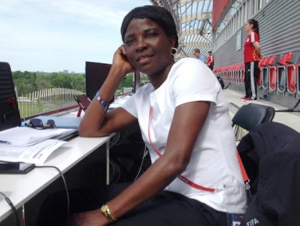 Florence Omagbemi
Former Nigeria Football Federation technical director, Kashimawo Laloko said the NFF has erred by removing Florence Omagbemi from her position as Super Falcons coach.
The has announced Randy Waldrum a USA coach technical adviser, for the national women team, despite Omagbemi leading the team to their 8th Africa Women Nations Cup title in Cameroon this year. It was speculated that the NFF replaced the former Super Falcons captain and midfielder for her inability to control the team players following their stand-off with the NFF over unpaid allowances.
Omagbami was in the Super Falcons as a player for a very long time.
"I knew her back then with Jegede Babes.
"If you were asking people to reapply, it is the politics of the show that they want to play.
"This lady did a lot for this nation both as a player and a coach. Even after winning the trophy in Cameroun they still asked her to go.
"I think they simply wanted to find a way to eliminate her after the players' demands," said Laloko
Waldrum managed Trinidad & Tobago's women's side between 2014 and 2016, and his appointment is subject to contract terms being agreed with the Nigeria Football Federation (NFF).
He was fired as coach of the Houston Dash women's football team in May.