…Says Warri ports can ease congestion at Lagos ports
By EGUFE YAFUGBORHI
Chief Reginald Amadi is the Public Relations Officer of the Delta/Edo Command of the Association of Nigerian Licensed Custom Agents. In this interview with Sunday Vanguard in Warri, Amadi speaks on the Nigerian Ports Authority (NPA)/Integrated Logistics Services (INTELS) row, among other issues in the maritime sector. Excerpts: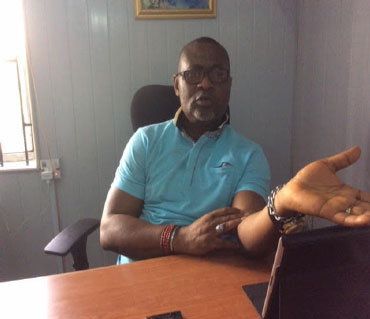 Let's start with your stake in the maritime or ports business.
I have been a major stakeholder in shipping, clearing and forwarding business for years. Today, I run some organisations, including Success Trends, Amareg Global Concept and Awesome Shipping.
The NPA termination of the agreement with INTELS has attracted mixed feelings among stakeholders. What's your position?
We have several aspects of INTELS operations in the ports. Is it that government terminated the agreement with this company as a terminal operator for failure to meet the terms of the agreement? INTELS also acts as pilotage manager for all vessels that come in and go out of Nigerian waters. So which aspect of the agreement are we talking about?
NPA accused INTELS of refusing to remit the revenue generated under the business agreement to the Treasury Single Account, TSA. How could that have happened?
I wasn't there when government gave the concession to the company, but one of the major reasons a terminal operation is awarded is for the awardee to gainfully market the terminal. Maybe NPA just found out that INTELS was not meeting this obligation.
As a critical stakeholder, I can, however, tell you from experience that INTELS must have gone too far on its alleged excesses before government could act the way it did. And INTELS came to Nigeria like many other companies. It used to be called NICOTEX and, contrary to what many would believe, INTELS is not owned by former Vice President Atiku Abubakar. It is an Italian firm. Atiku seems to be a big Nigerian stakeholder.
If I have a contract like the one INTELS is having issues with, I have the wherewithal to execute it and many other terminal operators can do it, if not better. It is alleged in some quarters that INTELS has been operating beyond its mandate.
For instance, it is alleged that the firm was charging in dollars for cargoes domiciled in Nigeria? If you talk of a vessel coming into Nigeria, that is justified, but for a vessel known to be operating locally, that is inexcusable. Such a company should pay in Naira. I have been a victim. Why should there be monopoly of cargo handling in a situation where there are many terminal operators? An agent should have right to patronise any terminal operator of his choice. If you don't serve me well in one terminal, I should be able to take my product elsewhere.
INTELS says about 11,000 persons may lose their jobs if its contract is cancelled. Will that not further compound the problem of unemployment in the economy?
I don't know if that claim is true? But I doubt if the personnel of all terminal operators across all ports in Nigeria are up to 11,000. Using Warri as case study, the total number of operators there, including the NPA staff, terminal operators, forwarders, are not up to 1,000. When you say 11,000 workers, what are their jobs? Even the NPA, with several branches, how many staff do they have? I don't know if INTELS has up to 6,000 workers, and even before the issue of agreement termination came up, it was alleged that they were already terminating jobs because of the economic situation.
Are you privy to the NPA/INTELS agreement? The firm may have been granted a monopoly status.
Unfortunately, nobody outside of government and INTELS knows the details of the agreement as it is with agreements of that nature. Meanwhile such agreements should have been public documents to enable stakeholders know whether to pay bills in Naira or dollars.
Should the contract cancellation stay, how does government pick a capable replacement service provider without experiencing the same challenges that provoked the termination?
NPA is supposed to be the terminal operations regulator. INTELS also owns AMS, an organisation that handles market products. Julius Berger is another terminal operator. If INTELS loses out, other operators simply continue with the business.
If government so desires, it can bring in another operator, but the major lesson here is that there should no longer be special privileges or exclusive agreements. No monopoly of oil and gas cargo. Any operator in the business can do whatever job is available. There should be nothing like INTELS exclusively handling pilotage. It should be left open. There should be competition. Absence of checks and balances, it would appear, made INTELS grow larger than NPA.
Baka-Usman, the NPA MD, disclosed a move to revamp the grossly underutilized Delta and eastern ports. Bearing in mind that previous commitments have not been followed with concrete action, how best can we revive these ports and perhaps rescue the congestion in Lagos?
Government should drop the industrial politics that is killing maritime and eastern ports. For years, we have operated in Warri ports even when some people claim the port is shallow, not dredged. Meanwhile, big global brands like Barco Liner keep coming in. Onne seems to be busy because of its closeness to the East, but then Warri port remains the most centralized in this country. Clear a cargo here, in three hours you are in Onitsha with your cargo by truck.
Government is the one killing the ports. In 1993, 94, when there was congestion in Lagos, government ordered that cars be shipped to Warri. Were they not properly cleared? In fact, clearing agents attested that their cars were more secure in Warri, because vandalism and pilfering common in Lagos were not experienced in Warri.
Why can't same happen again in Warri? We have been here for years, no community issues peculiar to Warri. Go to Lagos, Areas Boys and Kelebe Boys among others are all over. And Lagos State government collects a certain amount for any cargo coming out of the ports because of their investment in the business. Delta State should do that for her ports too.
How does Delta invest and gain from the ports here?
The state government can ask the NPA to leave the entrance channel for it to sweep or dredge whenever it is due. They can enter into an MOU to that effect. If they spend N2billion in doing the job, it is now agreed in contract, that every cargo coming pays Delta an amount for keeping the channels.
At the end of the day, the money is remitted to Delta in line with the agreement and people are gainfully employed. Delta cannot continue to rely on oil and gas when it has enormous opportunities to explore and gain from the ports. If oil finishes tomorrow, how would Delta cope? There are economies without oil but doing very well. Look at Singapore, their shipping is unique. Oil and gas cargoes don't go to Lagos. 80% of oil and gas cargo come in through Onne and Warri. And Intels has 100% monopoly.
Last line
A key step to revival of Warri ports is rebranding and marketing. MP Moller used to have office in Warri. It is about the largest shipping line in the world. Every shipping line should have a liaison office in every port. If importers know that if you go to Warri, a major shipping line has an office there, they would shun the congestion in Lagos and come to Warri to discharge their cargoes. There is the claim that Warri channel is shallow.
Meanwhile, the movement of vessels shipping imported petroleum products to tank farms in Warri has disproved the claim of shallow waters. Petroleum products are heavier than other cargoes. So, if a vessel bearing 3,000 metric tons of petroleum products can come in, why can't a lighter vessel with 2,000 or 1,500 metric tons of products come in? Don't you see the politics in it? If oil and gas come in and discharge successfully, why can't cars and general cargo come in and discharge?