…Oshiomhole used politics to unite Edo people—Obaseki
…I will continue to serve my people and humanity—Oshiomhole
SIMON EBEGBULEM, BENIN CITY
Immediate past governor of Edo state, Comrade Adams Oshiomhole recently drew dignitaries across the country to Edo state when he was honoured by the Oba of Benin, Oba Ewuare II for his laudable achievements while he was governor of the state.
This was the first time the Benin monarch would be giving special honour to any individual in the state. It will be recalled that Comrade Oshiomhole became governor when infrastructures in the state had completely broken down but before he left, he had built what could be described as the modern Benin City.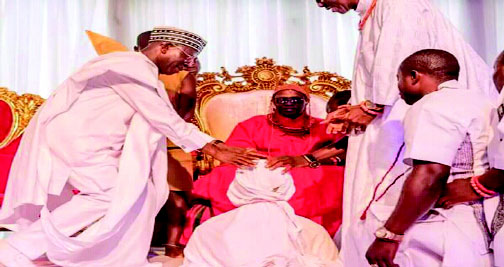 Apart from his strides in the infrastructural development and youth empowerment, Oshiomhole sent the god fathers of the state politics into compulsory retirement. Also, the perennial flood situation in Benin City and the devastating erosion in Auchi is now a thing of the past following his N30billlion Benin water storm Project.
It was against this premise that the revered Oba of Benin Kingdom, HRM, Omo N'Oba N'Edo Uku Akpolokpolo, Oba Ewuare II,    decided to honour Oshiomhole for his outstanding achievements while in office.
Those who witnessed the ceremony included governors of Sokoto and Kebbi States, Rt. Hon. Aminu Waziri Tambuwal and Senator Abubakar Atiku Bagudu respectively, Deputy Governor of Edo state, Comrade Philip Shaibu, Chairman of THISDAY Group and Arise TV, Prince Nduka Obaigbena; Business mogul, Capt. Hosa Okunbo and Minister of State for Health, Dr. Osagie Ehanire.
Also in attendance were Senator Matthew Urhoghide, representing the Senate President, Dr. Bukola Saraki and Pally Iriase representing Speaker, House of Representatives, Alhaji Aminu Dogara. Traditional rulers were also not left out.
The Otaru of Auchi, HRH Aliru Momoh Ikelebe III; the Otaru of Igarra, HRH Oba Emmanuel Adeche Saiki II, and other traditional rulers witnessed the ceremony as well as lawmakers from the state Assembly, the Secretary to the state Government Osarodion Ogie, Chief of Staff to the governor, Taiwo Akerele among others.
In his address, Oba Ewuare II who asserted that the people of the state were proud to have a son like Oshiomhole, described the tenure of former governor as eventful and an era that opened the way to social-economic development of the state.
His word, "a lot of encomiums have already been showered on the former governor but we felt we needed to host him at the Palace Ground for promoting the Edo Culture and doing what past governors thought were impossible. He was committed to duty, achieved what past administrations could not achieve and showed great respect to the Benin Monarchy. He is our son with whom we are well pleased".
The Oba prayed for comrade Oshiomhole and presented a special gift, a bronze cast of the former governor to him. While presenting the Bronze, Oba Ewuare 11 said "this is the icing of the cake and it is to express the people's gratitude to Oshiomhole for promoting the Benin traditional institution and culture and creating unity among the people of the state.
Oshiomhole demonstrated a strong will and capacity to transform the state in such a way that he made possible what past administrations in the state thought was impossible. For showing tremendous respect for the Benin royal family, traditional institution, and for your wonderful eight years performance, may the Almighty God and our ancestors continue to be with you", Oba prayed.
Also speaking, Governor Godwin Obaseki who was accompanied by his wife Betsy, thanked the Oba for what he described as "a unique event". Obaseki said "if I recollect, what the Oba did by honouring my predecessor and my party leader Oshiomhole has never happened before in Edo state, and I guess what your Royal Majesty has done with this honour is to challenge me to say I am commanding you; maybe if you do better, I will also consider honouring you".
Governor Obaseki added: "What I have learnt from this is that if you do well when you are in power you will be rewarded for your sincere service to the people. From the citation, it is clear that Oshiomhole made a watershed in Nigerian politics.
His coming into governance saw a new trajectory. One point that was not made in the citation is that he was the first political leader who stood out using politics to unite Edo people that today, we all speak as Edo people and not as Etsako, Esan or Owan.
We have a lot to be grateful to him for. Before I came, he made my job easier, he cleared the path. What I am doing is just to continue from where he stopped. I thanked Oshiomhole because he provided leadership and what we are doing today is just to thank him".
Responding, Oshiomhole expressed gratitude to the Oba for the honour done to him, saying that "though there are levels of gratitude, what you have done is very surprising and I cannot express the joy I have because if I have accomplished anything, it was because I have a father who stood by me. I am deeply touched with your prayers.
When I was in trouble, the Benin traditional family stood by me. I can't forget the very crucial role of Oba Erediauwa. I recall the role the Oba played when the State House of Assembly then tried to constitute an obstacle to development of the state in my first budget and Oba Erediauwa came to the rescue".
On the bronze gift which symbolised the royal honour, Oshiomhole said the gift was a summary of his life when he was young as he looked more handsome, but that with tear gas and stress on the streets of Lagos, Abuja, and Port Harcourt while protesting against government inaction on workers' welfare, his look became distorted. He expressed his gratitude to the monarch for the honour and assured that he would continue to remain loyal to the Benin monarch as well as continue to contribute his quota to the development of Benin Kingdom and the state in general even out of office.
He thanked the Oba for the royal gift, describing it as the summary of his life's struggles. He urged his successor to aspire to do more than he did and urged Edo people to be patient with the Obaseki-led administration.