By  Emma Nnadozie
As the race for the governorship election in Anambra State hots up, contenders have been working round the clock to clinch the number one position.   At the last count, no fewer than 37 contenders are in the race.   Among them is Chief Amechi Justin Nnoli, 34, from Aniocha local government area of the state.   In this interview, Nnoli says he is vying in the election to win.
Many people think you are new in the race.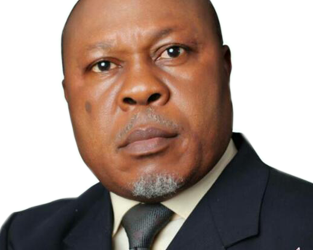 This is my first time of contesting the governorship of Anambra.  My main aim is to make our people realise that the problems we are facing are not insurmountable.   They are man – made and     I am poised to tackle them headlong. I was the Co-ordinator for The Buhari Organisation around 2002-2011.   I later left to work in Goodluck Jonathan campaign team after which I went back to business. When this opportunity came to vie in the Anambra election, I decided to participate.
Why I am in the race
I am running on the platform of the National Unity Party of Nigeria, NUPN. My main reason for coming to the race is because of what is happening in Anambra. In the last 18 years, the people of my area have not enjoyed dividends of democracy. We have consistently been sidelined.     It has been like a sectional thing from one government to another, we have been grossly marginalized.   That is why I decided to liberate my people.
My party has been in existence for the past 12 years under the leadership of Perry Opara. Presently, the party has two slots in Bayelsa State, one at the state Assembly and the other at the local government level.   We are not in the race because of the money. We know that the ruling party has what it takes to take back power but God, in his infinite mercy, will hand over the power to us, because the Anambra people have suffered for too long. For instance, the person that brought Obiano, the governorship candidate of APGA who is the sitting governor, is the same person that went out to get another person, Mr. Obaze. All our past leaders in Anambra have failed the state.
Assessment of Gov. Obiano
I don't think he has done his best he can because, if you are talking about security, you must first create jobs. By creating jobs, you have reduced crime rate. When youths are engaged, there will be no crime. Any government that prioritizes agriculture must succeed.   If you engage people in agriculture, you will see them working, producing food for the masses because it is said that a hungry man is an angry man.
Other contestants
We have about seven registered political parties in Anambra. The other day, we had a debate and only 17 parties showed up.   I chaired the forum formed later to produce a candidate. All I know is that even if we are a million, God's wish must be done.   He knows what is good for the people of Anambra and you will see how it will manifest.
Magic wand
We will look at education with a view to making it free from primary to secondary school levels or even tertiary level. Like I said before, we will concentrate much in creating jobs which will definitely enhance security.   Claims that there is security in Anambra presently is false.     If you go to the streets, you will shudder at the groaning level of joblessness and that is what forced most of our youths into getting involved in criminal activities.   This is exemplified by the large number of touts you see almost everywhere you go to in the state. IPOB is the creation of joblessness. We are talking of marginalization why we are the people marginalising ourselves. If you say the present governor has done well in area of security in Anambra, what about road network.   There is, unfortunately, a reasonable level of deceit in what they said they have done so far.   The roads are so dilapidated that a journey of 30 minutes now takes hours because of the worsening condition of our roads.
Problem with leadership
One of the greatest problems we have is godfathers who have been imposing their candidates on the people.   At the end of the day, they will end up satisfying an insignificant number of people that worship them and that's where the problem lies.   For instance, If Governor Obiano has done well, he would not be spending both the time and huge sums of money he is spending now to get second term.   His work would have spoken for him because people will say 'one good turn deserves another'. For me, I am going there because God wants me to be there.     He wants me to go and lead Anambra and, with Him, all things are possible.   He is my mentor.
On Buhari
I think he is doing his best but the problem is with the people around him
On Igbo marginalisation
I think that Igbo's should, first of all, get down to the east to develop their area.   By so doing, they would be the pride, the beautiful bride that other Nigerians will be coming to.   Through envy, they would now say okay, they want to associate with them. Not one leg up two legs out.   Other tribes threaten Igbos because they know we don't think home. The number Igbos outside our land is nothing compared with those outside.   You can see the way we were treated over this IPOB matter; we have been taken fifty years back.   Our leaders should be able to strategize and build a system that will be the envy of all in this country; a system that will compel our industrious sons and daughters to come back and invest massively in Igboland.   That is why I shudder when they say we are marginalized. We are not marginalized.   We are the ones marginalizing ourselves.   What stops South East governors from, first of all, putting things together?     A concerned government should be able to, for example, put heads together and build the second Niger Bridge, put toll gate there and recover your money.   But our governors are not thinking about that. This is one of the areas I will look into if I get there by the grace of God.
Kanu and IPOB
From the start, Kanu never knew he could get to this height. It was Buhari that made Kanu. Buhari made Kanu a hero by getting him arrested.   If I meet Kanu today, I will tell him he has tried by awakening the spirit of the Igbos to fight for freedom.   But he did not consult properly before embarking on that exercise.   He should have consulted with people that have the technical knowhow to take over from where he stopped. Moreover, the kind of power he arrogated to himself caused the problem we are facing today.   He did well but he did not do it right.
Role of Ohaneze Ndigbo
If Ohaneze Ndigbo, as the father of all Igbo umbrella groups, had played the role of a father from the onset, things could not have gotten out of hand.   Unfortunately, things had gotten out of hand before they intervened.     My advice to the Igbos is that they should come back home, they should think of home, they should build their home, and they should come and talk with us on the way forward.     Let us talk about money politics. We have money politics, we have money, there is no Igbo state in the South East that is not well to do, no exception.     We have what do. We have people that can speak for Igbos if we can come together.   So, my advice is, come together, build our Igbo states, then we now look up to the other people.   If we put our hands together, the idea of marginalization will not come up again even though they are still seeing us as a superior race which we are. We are the people doing ourselves; we are the cause of our problems.     If you want to know who your problem is, you stand before the mirror who ever that appears there is your problem. We must go and renew our area.
On the ruling party, APGA
Well, I don't see APGA as an Igbo party. I am a Nigeria and an Igbo man in Nigeria.   There is nothing to show that APGA is an Igbo party. By the way, why must it be Igbo party in the first place? Why must we have Igbo party? Is there any party that belongs to the Hausa or the Yoruba? We are in Nigeria and we must have national outlook in whatever we are doing.
Advice to other contenders
Let us all work together to remedy the bad situation of things in our state, because it is said that 'together we stand, divided we fall'.