European Union ministers on Monday congratulated Austria's Sebastian Kurz on his election victory but some were uneasy about the far-right, eurosceptic party that may enter the new government and has clashed with the bloc before.
The Freedom Party (FPO) got around 26 percent of votes in Sunday's parliamentary vote, boosted by a European migration crisis in 2015 that affected Austria and also led Kurz to campaign on an anti-migration platform.
"I don't have a problem with Sebastian Kurz as a person. We're not following the same line politically, that has never been the case and it never will be," Luxembourg Foreign Minister Jean Asselborn said on arriving to talks with his EU peers.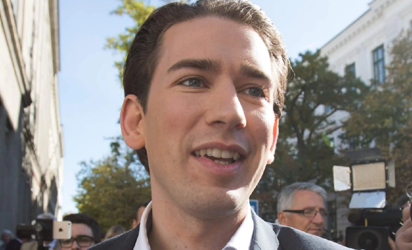 He listed pro-European Austrian politicians as role models for Kurz and warned Vienna not to side with migration hardliners, including Hungary, whose government is also eurosceptic.
Austria became a member of the European Union in 1995 after voting in favor of joining the bloc with a two-thirds majority. Recent opinion polls suggest three quarters of Austrians want the country to stay in the bloc.
While the FPO had been a member of socialist-led governments in the 1980s, the anti-immigrant rhetoric of party leader Joerg Haider led to fierce criticism from EU neighbors when his party joined a government with the Christian Democrat OVP in 2000.
The EU's 14 other member states at that time reduced bilateral cooperation with Austria until a report by senior diplomats found that the country's respect for human rights had not been diminished since the FPO joined the government.
The party demanded a referendum only last year to exit the EU, as Britain is doing now. The FPO has toned down its anti-EU rhetoric in recent months but continues to call for weaker members to leave the euro zone and Austria to pay less into the common EU budget.
Hungarian Foreign Minister Peter Szijjarto, entering the same talks in Luxembourg in which Kurz would normally also take part, said the 31-year-old Austrian conservative was his friend.
"We are happy that a sister party of ours won the elections … and we are happy that their candidate has won who in many cases represented similar positions regarding migration to the Hungarian government," Szijjarto told reporters.
Szijjarto expected that the anti-immigration eastern EU states – Hungary, Poland, Slovakia and the Czech Republic – to work more closely with Austria now, which would only deepen the east-west divides weakening the bloc's unity.
As Austria turns to the right, the bloc's top official dealing with EU's ties vis-à-vis its neighbors, Commissioner Johannes Hahn of Austria, sought to ease concerns that Vienna may become a new enfant terrible in the bloc.
"One should not forget that only a year ago Austria elected the first Green president and now it looks as if the Greens will be kicked out of parliament. There is a huge volatility among voters," Hahn said in Luxembourg.
"Each government will have a very pro-European agenda because all the major political parties are very much committed to the European Union," he added.