By Ola Ajayi
THE Olubadan of Ibadanland, Oba Saliu Akanmu Adetunji, has said he does not deserve deposition threat which, he alleged the Oyo State Government reportedly issued.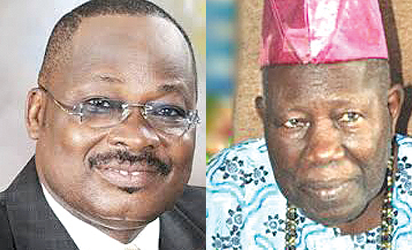 The monarch said this, yesterday, at his Popoyemoja Palace, Ibadan when he received the Ataoja of Osogbo, Oba Jimoh Oyetunji Olaniyan and members of his entourage, who paid him solidarity visit.
The Olubadan said: "There are checks and balances in our traditional chieftaincy system for any monarch or chief who goes against the run of play. As I speak, I cannot see how mere peaceful opposition to the controversial chieftaincy review by the Oyo State Government could be misconstrued to mean incitement against the government."
"As the matter is pending before the court, I do not want to comment on it. But, let nobody make mistake about it, where Ibadan people stand, is where I must stand for me to be relevant as  a king and custodian of our customs and tradition", he said.
Oba Adetunji, who commended President Muhammadu Buhari for his concern over the security situation in Ibadan stated that it was to reduce tension that he decided to seek legal redress.
According to him, contrary to speculations in government circle, the matter at hand is not political.
Earlier, Ataoja of Osogbo, Oba Olaniyan had conveyed a message of solidarity and support of Osogbo people to Olubadan and Ibadan people, saying, "As the forces of light often triumph over darkness, no power and principality will be able to destroy Ibadan heritage, which is widely respected because it is rancour-free."
Stressing that Ibadan and Osogbo have historical affiliation, the Ataoja stated that whatever happens in Ibadan has a way of reverberating in the entire length and breadth of Yorubaland.