By Ike Uchechukwu
CALABAR — RESIDENTS and motorists in Calabar Metropolis, Cross River State, have complained about the growing potholes, causing traffic jams and loss of business hours in the capital city.
Over 800 potholes: From the beginning of Calabar Municipality to the bordering Calabar South, the two local governments that make up the metropolis, NDV counted more than 800 potholes both on major roads, by passes and streets.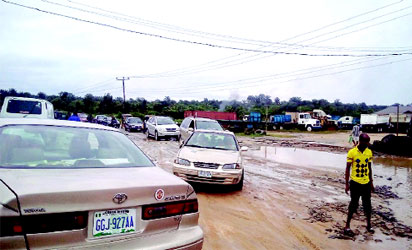 Inhabitants said the menace, which was not associated with Calabar drastically increased since the current administration took over, adding that normal maintenance works executed by the previous administrations were no longer carried out.
Inundated by gaping craters are Atimbo to Jonathan by-pass, Airport by pass, Chamley by White House Street, White House by Hart street, Bedwell street, Calabar Road, Howell by Mayne Avenue, Howell by Yellow Duke and New Airport by Ikot Ekpene Udo street.
Also under pressure are Abitu by Palace road, New Airport by Ene Ita street, Marian road, Ekpo Abasi, Orok Orok, Eta Agbor, Jebs, Afoknag street and Atamunu by Mount Zion road.
Calabar now an eyesore – Chief Obo
A community leader, Chief Bassey Obo, told NDV that potholes in Calabar have become an eyesore and the metropolis has lost touch of what it used to be with the presence of deep holes almost on every major road and street.
His words: "I do not think this was the Calabar that Mr. Donald Duke and Senator Liyel Imoke left behind. Since Ben Ayade came in as governor two years now, it is as if there was a surge in road deterioration and potholes have taken over our once beautiful city. In fact, you can now spend about two hours from Jebbs in Calabar South to Watt Market because of gridlock.
"We the inhabitants feel very bad and we think that something should be done not just because of the festivals, which will soon commence but that the culture of maintenance and cleanliness which our city is known for be brought back. They should bring back our Calabar."
Govt should fix the roads— Etowa, driver
An aggrieved motorist, Mr. Godwin Etowa, said before now he usually bought fuel of N2,500 daily for his taxi business, but these days, he was spending N4,000, yet it was still not enough because of traffic jams they experience on various routes due to potholes.
"I lose a lot of productive time both day and night because of these potholes. The short cuts and streets that we usually use to maneuver before now have all been taken over by potholes and it makes driving very difficult and tiring too and for us to beat time and meet up targets is almost impossible.
"The government needs to start fixing the roads since its already overdue for palliative measures to be carried out. Because of the potholes, we repair our shock absorbers almost weekly and buy tyres too, so it is affecting us badly because we are really not making anything from plying the roads," Etowa lamented.
Our suffering is too much — Ibekwe
Mr. Magnus Ibekwe, who lives on Atimbo road, regretted: "Most times, I spend one hour while going home from work. Atimbo road reminds me of Apapa road in Lagos. There is always traffic jam on this road and when you check the cause,  it is because of one pothole or the other. The government of Ben Ayade must do something to alleviate the suffering of commuters because it has gotten out of hand already," he said.