By By Soni Daniel, Northern Region Editor
Over three years after Boko Haram terrorists ran over him with motorbikes, leaving him with a broken spine, Ahmadu Ali from Chibok finally left for corrective surgery in Dubai, yesterday.
The treatment of the young boy from Chibok was made possible by the donation of $48,000 by the Dickens Sanomi Foundation for the corrective surgery to be done by a specialist hospital in Dubai.
The boy was injured alongside his mother by Boko Haram terrorists when they ransacked Chibok community in Borno State few days after abducting the over 200 schoolgirls.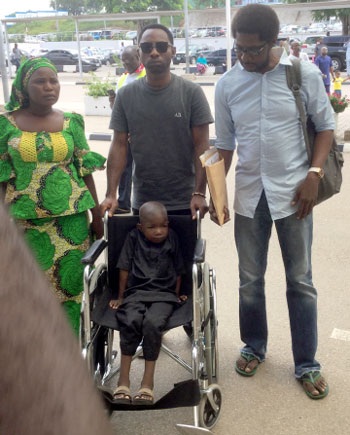 At the departure hall of the Nnamdi Azikiwe International Airport yesterday to see off Ali was a member of the board of trustees of Dickens Sanomi Foundation, Hayi Goodluck.
Goodluck said: "We are already so excited about the prospect of a new lease of life for Ali and we promise to stand by him before, during and after the surgery in Dubai.
"The Dickens Sanomi Foundation will not only cater for him in Dubai, but will also take up his education upon his return from surgery to stabilise him and help him to live and actualise his dream as a man created by God.
"We want to assure Ali, his family and Nigerians that the Dickens Sanomi Foundation will not abandon him in his moment of dire need. We stand by him to the end. Indeed, the Chairman of the Dickens Sanomi Foundation has set his heart on Ali. He has a soft spot for him."
Donors
Head of the Global Initiative for Peace, Love and Care, which is raising funds for Ali's corrective surgery, Mr. Nuhu Kwajafa, said his agency got to know about his condition and began to mobilise for his treatment when someone called from Chibok.
Kwajafa said: "We moved immediately to raise the $65,000 required for the surgery in Dubai. Fortunately for us, after meeting some Nigerians for assistance, including the Senate President, Dr. Bukola Saraki and other lawmakers, we approached the Dickens Sanomi Foundation, which has graciously made available the balance of $48,000 needed for the surgery.
"Ali has spinal cord injury after being overrun by Boko Haram terrorists' motorcycles when they ransacked Chibok community a few days after abducting the Chibok girls in April 2014."
The incident
Vanguard learned that Ali was being carried by his pregnant mother, who was struggling to escape from the Boko Haram attackers. She fell. Ali fell off her back and Boko Haram terrorists ran over him in motorbikes.
With mother and child seriously injured, Ali was kept under a mango tree for over three days, bleeding from his mouth and nose without medication, until his injured mother was able to remove him from under the tree to a house in Chibok.
Ali has since remained bedridden.
According to Kwajafa, "when we heard of his traumatic condition, we brought him to Abuja and began to mobilise support for his corrective surgery in Dubai.
"We are taking him to Dubai today (yesterday) and hopefully he will be restored to his normal condition. We are confident that after the surgery he will be back on his feet."