By Chimaobi Nwaiwu
CHAIRMAN of Transition Committee of Onitsha South Local Government Area, Prince Emeka Asoanya, yesterday, said that the incumbent governor of Anambra State, Chief Willie Obiano, will emerge the governor of Anambra State in November 18, 2017, because of the legacies of his ongoing government.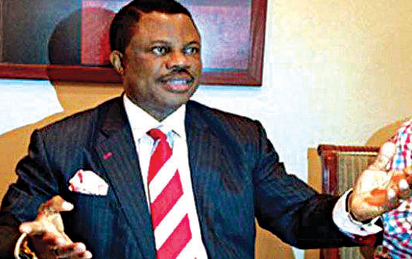 Prince Asoanya in an interview with Vanguard in his office said that the governor's records are very clear even to the blind that his second term race to office will easily be won. He said other contestants will lose because of the good works of the governor. He particularly cited security as one of the works of the governor.
"There is stability in the state and the people are happy with him, that the government of the day in the state has brought stability. You can see that the roads in the state are the best, there is no part of the state that is not linked with goods roads, the challenges we have are the Federal roads and yet the Governor is partnering with the Federal Government to fix those roads.
"We have the template and we are working with laid down principles and template. You know how this state used to be, and you can spot the differences. The governor does not need any body to deliver him for the second tenure, his achievements are enough to deliver him," he said.
Prince Asoanya who was one time chairman of Onitsha Main Market, during Dr Chinwoke Mbadinuju administration, Anambra State Consultant on Markets and Parks under, Dr. Chris Ngige's administration and now chairman of Onitsha South Council Area under Governor Obiano, said he is conversant with governance in the state and knows when it is possible for a governor to return for a second term.