By Omeiza Ajayi
ABUJA – The Nigerian Security and Civil Defence Corps NSCDC has dismissed insinuations that it is secretly recruiting wards of some highly-placed Nigerians, saying, while there is no truth in such "wild speculations", it is however trying to secure approval to recruit some Nigerians in the coming months.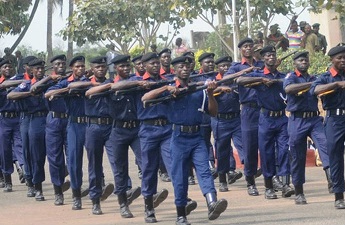 Commandant General of the Corps, Abdullahi Gana Muhammad disclosed this Tuesday in Abuja in an interview.
"We are not recruiting and we are not doing any replacement. We are however trying to secure approval to recruit but there is no timeline yet, except that when we are going to do it, we will advertise it in the media just the way that of the Immigration Service was done recently", he said.
The CG however explained that the corps had moved to assist families of its slain officers by getting their details with a view to employing them in the future, a move he said was misinterpreted as a recruitment process.
"We have lost some of our personnel in the course of discharging their duties. I took my time to visit some of the families and when we went to Akwa Ibom the father of one of our slain personnel was literally depressed. He said the son who was earning N78, 000 was the breadwinner of the family as he used to send him N20, 000 every month. We assessed the situation and we felt the only way to assist fellow officers and men who have paid the supreme price for us is to get someone from their immediate family and recommend for employment. Ofcourse, it is not a right but a privilege. And so, we started compiling their details which we were to keep in view ending when we would be embarking on recruitment. Unfortunately, what we thought was a lofty objective was misinterpreted in some quarters and so we had no option than to stop it", he explained.
The civil defence boss also restated his earlier warning to applicants to desist from paying money to anyone, adding that he is not also on facebook, and could not have advertised vacancies on the social media site.