By Emma Amaize
WARRI—Reformed Niger Delta Avengers, RNDA, and nine other militant groups have called on the Federal Government to issue 10 licences to the Host Communities of Nigeria, HOSTCOM, for the take off of modular refineries in the Niger Delta.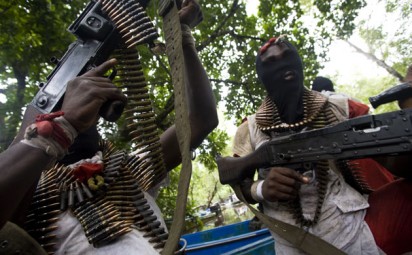 They also urged government to, without further delay, mobilise the contractor handling the East-West Road project, as it links the entire South-South region to other parts of the country.
Arising from a meeting in Delta State, the militants, in a statement by its leader, self-styled "Major General" Johnmark Ezonbi, alleged that the Federal Government had deliberately put policies in place to kill the economy of the Niger Delta region.
He alleged that nothing meaningful was happening in the region, while its oil wealth is used to develop other areas, particularly the North, adding "we cannot continue to sit down and watch, we must act and the time to act is now.
Demand for gas flaring funds
"The Federal Government should immediately release the gas flaring penalty funds to oil-producing communities in the region through HOSTCOM, urgently address the recent appointment of senior management staff at NNPC as clearly outlined in the Federal Character Commission and upgrade the sea ports in Burutu, Calabar and Koko, as they have been abandoned for many years to frustrate the economic growth of the region.
"The Federal Government should commence work on the Export Processing Zone, EPZ, project in Ogidigben and the Gbatamantu Deep Sea Port and immediately carry out repair works on the very bad Ekpoma-Auchi-Lokoja Express road.
"The condition of the road has made movement of goods and services very difficult for the people."
'We didn't beg Clark'
Maintaining that militants lifted their ultimatum to the leader of Pan Niger Delta Forum, PANDEF, Chief Edwin Clark, because of pleas and persuasion by concerned Niger Delta leaders and stakeholders, he said: "Nobody apologised to Clark as insinuated in a national daily. Rather, it is Clark that has been calling different people and begging them to support his disbanded leadership of PANDEF."
… blasts Attah
On recent claim by the former governor of Akwa Ibom State, Obong Victor Attah, that PANDEF remained the authentic voice of the region, he said: "We wish to emphasise that Obong Attah has lost touch with reality in the region.
"It was Senator Godswill Akpabio that turned Akwa Ibom State around; somebody like Attah should not have the temerity to dialogue for the region.
"When he had the instrument of government to turn Akwa Ibom to paradise, he failed."
Subscribe for latest Videos