By Festus Ahon
ASABA—LAW Officers Association of Nigeria, LOAN, Delta State chapter, has commended the state Attorney-General and Commissioner for Justice, Mr  Peter Mrakpor, for setting the ministry on a high pedantry and rising to the defence of the poor and vulnerable persons against abuse and oppression.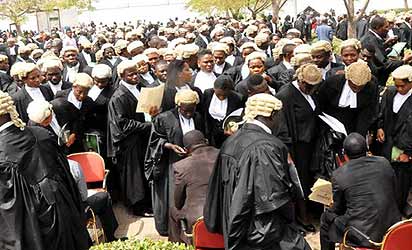 LOAN in a statement by its state Chairman, Mr Patrick Mekako, said Mrakpor had initiated several innovations in the system to protect the rights of the people, especially their rights to access justice and for the acceleration of the process of justice delivery in the state.
The group also commended the attorney-general for creating a conducive working environment for lawyers in the ministry,  which they listed to include "Provision of laptops for every legal officer in the ministry with electronic law library to facilitate prompt legal research; provision of chairs, tables and workstation for staff; training and re-training of legal officers in specific areas of the law through sponsorship of its members to NBA conferences, including mediation courses as well as payment of practising fees and fees for stamp and seal for all lawyers in the ministry."
On the creation of several new units and departments in the ministry, especially the Rape/Sexual Assault/Child Rights Unit to defend and protect victims of rape and domestic violence, the Public Advisory Services Unit,  which renders free legal advice to members of the public, the group said the move was proactive, and "underscores the current  administration legal mantra, that the rights of the people to access to justice and legal representation was its concern."
According to the statement, the Public Advisory Services Unit has assisted so many indigents and vulnerable persons in the state to get free legal advice and probono legal representation in court.
Expressing satisfaction on the cordial and robust working relationship between the Attorney-General and lawyers in the Bar especially state counsel, he said "Such relationship is a good omen for the state as lawyers in the ministry are now better motivated to perform their duties."