By Levinus Nwabughiogu
ABUJA – A score of youth from Bayelsa, the home state of former President Goodluck Jonathan have called for the removal of the Vice chancellor of the Federal University, Otuoke, Professor Seth Accra Jaja, saying he was wrongly appointed for the job.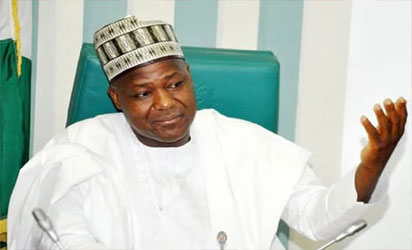 In a petition on Monday, the youths appealed to the Speaker of the House of Representatives, Hon. Yakubu Dogara to impress it upon President Muhammadu Buhari to ensure that due process was followed in the appointment.
Coming under the umbrella name of "Bayelsa Youths for Truth and the Rule of Law", the youths in the petition written by its lawyers, Savvy Law partners and presented by Hon. Douye Diri representing Yenogoa/Kolokuma Opokuma federal constituency of Bayelsa state said that President Buhari was hoodwinked into making the appointment and therefore, called for its reversal.
The petition signed by the head of the chambers, Ayibatekena Bruce Ebiki stated that: "We know that the president was deceived. But as a honest and forthright person, he has publicly instructed that the appointment be reversed by council, therefore, Prof. Jaja's appointment be terminated forthwith, and a qualified professor from Bayelsa state should be appointed.
"Prof. Seth Accra Jaja is from Rivers state and cannot therefore be appointed vice chancellor of a federal university in Otuoke, Bayelsa state. This principle has been in operation for more than 40 years.
"That the mandatory minimum
requirement for the appointment of anyone to the post of vice chancellor of any federal university, requires the appointee to have had at least 10 years post professional experience. But Prof. Jaja has just done about six years as a professor, therefore, does not qualify to be appointed vice chancellor of any federal university.
"That we have verifiable information that Prof. Jaja had served the Nigeria Police Force for about 27 years and retired as a Deputy Superintendent of Police (DSP). But he lied to the Rivers State University of Science and Technology that he had not worked anywhere before joining the university.
"Prof. Jaja at the point of entry into the service of the Rivers State University of Science and Technology, Port Harcourt, would have been employed on contract basis and not as a pensionable appointee. As a contract staff, his promotion could not have gone beyond the rank of a senior lecturer.
"Professor Jaja should be asked to refund the salaries he had collected over the years between senior lecturer and professor. Jaja's inordinate ambition has exposed him. He should therefore be prosecuted for committing a criminal offence, and should be stripped of the rank of professor and this action should be published in three national newspapers."
The youth further lamented Bayelsa state was marginalized because it "has a PDP governor, which has made a former governor from the South South in APC, who is now a minister and a former member of the House of Representatives, now a DG in a federal government parastatal and their cohort to submit Prof. Jaja to the president to be appointed as the vice chancellor of the federal university, Otuoke knowing fully well that he is not qualified.
"We are in a positive expectation that you will advise the president and commander in chief of the armed forces, other relevant offices as the well-meaning members of
Nigeria and Bayelsa state in particular will find it beneficial and more cordial to see a qualified professor of Bayelsa state as the vice chancellor of the Federal University, Otuoke"