Every living being in this world wants to have a good life after death but only few of the world's population is making effort to know what it will cost to inherit the Kingdom of God.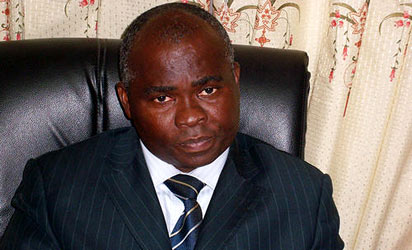 This is because many are not willing to bear the cross in this present life, in order to obtain a crown in the future. Some of them think that heaven could be gained by performing some meritorious act. But this is far from it as the difficult of salvation demands great work to attain.
It is not a lazy man's business, though the difficulties may be overcome by following the rules faithfully and carefully. Everyone who wants to make heaven at last must be ready to daily follow these rules to work out his own salvation and must not set his own rules and jettison the already laid down standard.
Mark 10:17-22 says: "And when he was gone forth into the way there came one running, and kneeled to him, and asked him, good master, what shall I do that I may inherit eternal life? And Jesus said unto him, why callest thou me good? There is none Good but one, that is God; Thou knowest the commandments, do not commit adultery, do not kill, do not steal, do not bear false witness, defraud not, honour thy father and mother. And he answered and said unto him, master, all these have I observed from my youth. Then Jesus beholding him loved him, and said unto him, one thing thou lackest; go thy way, sell whatso-ever thou hast, and give to the poor, and thou shalt have treasure in heaven, and come, take up the cross, and follow me; and he was sad at that saying, and went away grieved; for he had great possess-ions."
The above verses present a picture of a man trying to justify his self righteousness. He believes in the certainty of life after death but considered the standard rules so thorny to hold on to. Though he lacks nothing in this world, he was a ruler and a rich man but needed to know what his fate would be in the world to come after his death.
A happy life after death was his aspiration, as he thought it could be gotten by self righteousness, thus he asked, what he should do that he might gain the kingdom of God and be happy for ever. As far as he was concerned, he had kept all the commandments men-tioned as far as he knew and understood their significance. Having assurance of obedience to the law made him think and conclude he has merited a good life after death.
But Jesus told him there was one thing yet remaining. Though all that he has said, may be true yet to ensure complete thoroughness in his diligence, he was advised to go and sell his property. By so doing, he would prove that his love for God is supreme, that his obedience was not merely cere-monial, but sincere and real, so that the thing that was lacking would be made up.
However, the response of our Lord jolted his self justification and he became sad and grieved at His reply. That confirms how carnal men are always sad and exceed-ingly sorrowful, when they are told they cannot win heaven according to their own ways.
They think the best of themselves and hold high opinion of their own goodness and righteousness be-fore God but not in accordance with the word of God.
Many people today have con-cluded what they believe should be done, like the young rich ruler who after hearing about the kingdom of heaven, considered that he was qualified to inherit this Kingdom because he observed all religious doctrines. Little did he know that the Kingdom of Heaven is a prepared place for prepared people.
It is not our claim to righteous-ness that leads us to heaven, but our patience in bearing the cross, which is our duty. All Christ's followers are expected to prepare their shoulders for this great work of bearing the cross as Christ did for that will be an attestation and readiness to make heaven at last.
What necessitated the young rich ruler to ask the question was his conviction that he was living a righteous life and hence should merit the kingdom of heaven.
The second factor was because from the teaching of Jesus he discovered that those that are qualified to inherit eternal life must be childlike, and for him his manner of generosity was child-like, hence, he came to the con-clusion that he was qualified for this eternal life.
And having justified himself, he therefore seek confirmation from Jesus whom he thought would give credence to his conviction. Un-fortunately he didn't get what he bargained. Many people are parading themselves with same notion as the rich young ruler.
Many may have concluded in error that they are qualified to make heaven. May be because they have not committed fornica-tion, adultery, or have not stolen anything, therefore they assume, they are qualified.  But contrary is the case because such position amounted to self righteousness. All such people should give heed to the response of our Lord to the rich young ruler.
Mark 10:21-22 says: "Then Jesus beholding him loved him, and said unto him, one thing thou lackest; go thy way, sell whatso-ever thou hast, and give to the poor, and thou shalt have treasure in heaven, and come, take up the cross, and follow me; and he was sad at that saying, and went away grieved; for he had great possess-ions."
The response of our Lord Jesus Christ shocked the young ruler.  Our Lord Jesus Christ explained that observation of the command-ment of God is not a sufficient pre-requisite to inherit the kingdom of God. The young ruler in his effort to demonstrate and convin-ce Jesus Christ that he is a good man proclaimed Jesus as a good master, but our Lord construed this outburst to be a show of decorative righteousness that is not enough to take one to heaven.
This counseling was proved when it came to the rudimentary requirement that would qualify the righteous for heaven, the young ruler was found wanting.
The truth is that the ignorance of the spiritual nature of the divine law makes people think they are in a better condition than they really are. The Lord told him what remained in his qualification to eternal life was to sell all he had and pick up his cross and follow Him.
By this he would make obvious his willingness to place his desire for heaven above other matters which is what the Kingdom of God demanded. But on hearing the divine counseling, the young ruler became disappointed. He could not understand why he should dispose everything he had and follow Jesus. That was a hard saying which made him walked away in frustration.
Many, who are selfishly opt-imistic to make heaven because of how they are devoted in observ-ing the 10 commandments or religious dogmas, would be disappointed on the last day.