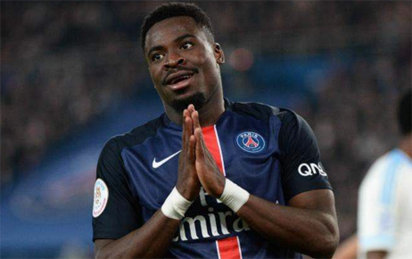 Serge Aurier
Tottenham Hotspur new recruit Serge Aurier says he got a rough deal from the media during his often controversial time at Paris Saint-Germain.
The hugely talented Ivorian right-back joined Spurs for £23 million ($29.6 million, 25 million euros) on transfer deadline day last week.
"I wasn't thought highly enough of and I wasn't respected," said the 24-year-old whose deal was complicated by his two-month suspended prison sentence for assault on a police officer outside a Paris nightclub in May 2016.
"The thing with the police was blown out of proportion by the European media," Aurier told African football's ruling body CAF.
"They focussed on everything except my football and if you look at my stats I've been the most decisive defender in Ligue 1 since 2013," said the confident and well built defender.
"I had to be morally strong," said Aurier, who was sidelined for six weeks by former PSG coach Laurent Blanc over remarks he made suggesting his then boss couldn't stand up to star Zlatan Ibrahimovic.
The defender survived the exile but as PSG are struggling to meet UEFA's financial fairplay rules since signing Meymar and Kylian Mbappe the Parisians took Tottenham's modest offer.
Aurier says the move to the English Premier League is a relief.
"I could have stayed. I got on with everyone and they offered me a new deal, but I decided to move on to something new."
Aurier was named in Ligue 1's team of the year in both 2014 and 2016 and won the Africa Cup of Nations in 2015.