Mallam Sulaiman Usman is the Director of Planning and Research, Information and Library Sciences, National Hajj Commission of Nigeria, NAHCON. He is also the Makkah Cordinator, 2017 Hajj. In this interview, he spoke about the multifaceted challenges faced by the commission during this just concluded hajj, which according to him include hajj fares, feeding and accommodation of pilgrims at the holy land and why stakeholders have to embrace change in the whole arrangment. Excerpts
By Ishola Balogun and Kazeem Ategbeshe
HOW can you describe the 2017 Hajj?
Alhamdullilah. We are very much grateful to Allah.  The botom line for anybody going to hajj is to stand on the plains of Arafat, for a reasonable part of the day, and a bit part of the night and that has been acomplished. That was about two weeks ago and thereafter over 11,00 pilgrims had been airlifted back to Nigeria.
So, the main aim of coming to hajj has been acomplished. Infact, I will give it about 75 to 80 percent success.  Inspite of the initial challenges, it has turned out to be well planned and executed. It is about the dexterity of the managers particularly, the top managers in handling crisis.
Could you please expatiate on these initial challenges?
It is like a silicon gown that when you fold the right side, the left side becomes lose. In otherwords, Hajj is a continum of challenges. As a manager, what matters is the ability to manage both the expected and unexpected challenges.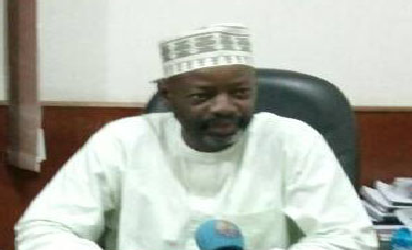 Unexpected challenges
Indeed, building upon the precept that human beings are never perfect, you build upon your mistakes.   The Hajj fares collected, and no pilgrim was left behind for lack of visa, the BTA or lack of aircraft to convey pilgrims to the holy land. You can say the same even for the Tour Operators; even when they had a litle problem, the Commission had to come in to assist them during the last minute. At a time, the exchange rate increased. We collected the dollar at the rate of 197 to a naira last year. It became N305 this year. By the calculation of the commission,  the quantum of the dollar to be charged on each pilgrims was lowered. Yet the total amount to be paid in naira increased to about N1.5 simply because of the exchange rate.  This is obstacle number one. You can't blame the commission, you can't blame the states either. You can't even blame the Federal government, because it has to be realistic. So, efforts were made in response to the public outcry to bring the exchange rate down particularly. Some had already paid about N1.2 with the believe that they might get some refund. At that time, we were also waiting and expecting a slash, until it was getting too late. The commission reacted immediately by sending delegation to various states to appeal to intending pilgrims that were awaiting a cut in the exhange rate and hoping to get the difference to again pay an addition sum. Remember, the fare calculaion template was earlier publicised.
Also, because of this delay,  the accomodation, feeding and other arrangments in Saudi Arabia had almost been concluded which started immidiately we concluded the 2016 hajj, through signing of MoU, raising of committees, making of part payments among others and suddenly, the figure was hovering over 20,000 to 30,000.  So, what should we do at that point? Should we tell Saudi that nobody is coming or that all arrangements already made should be cancelled or what? Or are you going to continue to mobilise people to pay more and make good your contractual agreement of taking them to the holy land? That was the devil's alternative, as they say. This is because you were supposed to stop the collection of fares at a certain time to make room for preparation even at the state level at some point. So, this painful choice was made to make people pay more almost at the time we supposed to conclude the process.
NAHCON always closes the airlift of pilgrims three to four days before the close of Jeddah airport over the years, but this year, we had to seek for special clearance to bring in the pilgrims some two days or three after the closure of the airports. Not only that, also to allow Nigerian Pilgrims to proceed to Madinah days after the routes have been closed. At a time, they said the pilgrims had to come to Makkah, perform their hajj and go to Madinah thereafter.
Another big challenge was the shortage of accomodation at the Muna.  You did not communicate to the organising body, (Muassasa) how many pilgrims you are bringing and from which states. These are what should have been done in good time to enable the Ministry of Hajj allocate space. So, they could only work on the figure we had initially. This resulted into some pilgrims not having spaces at Muna.  This also affected logistics for food delivery to pilgrims in Muna.  If all these had been concluded on time, these problems would not have been there. But Alhamdullilah, we were able to overcome them.
What lessons should we learn from these?
Hajj managers should follow that maxim of planning for the best and preparing for the worst at all times. Be prepared at all times because who you are dealing with Allah's guests. He will always be there for you if you do it sincerely.  That does not mean you will not continue to plan against all unforseen circumstances.
Since preparation for next year's haj has started, what's your advise for 2018 intending pilgrims?
Let them reflect on the spiritual provision that Hajj is a call from Allah and whoever Allah has called, should keep going.  It means you must have the means, both economic and physical readiness. As long as the fare is announced, just go and pay. It does not matter the cost.  Come to think of it, how much does Aljanah worth? Tell me, how much does it worth in dollars not even in naira? It is pricelss!.  So, as long as you have the means, just pay. Then worry about the change afterwards. If you talk about managing our expectations, I will say people should monitor the exchange rates.  The time is gone, when government will give concessionary or special exchange rate. It is simply not realistic. Should our economy boom like the time of Gowon when the government will say our problem is not money, but how to spend it; then you can expect concession on exchange rate.  So, for now, people should be ready to pay for their hajj afterall,  Islam is not a sadaqah thing.
What neccesitate the statement of the chairman during the post-Arafat meeting with stakeholders to the effect that NAHCON will hencforth cordinate the accommodation of pilgrims in Makkah?
I would have loved you ask the chairman. But as a rule, I don't evade my colleague's responsibility. You see, when people started shouting over this issue, I laugh.  This is because it is a new thing and not everybody accept change. The obvious reaction of most people is to resist change, without having an indepth look at the justification or the neccessity for these changes. Afterall, one needs to look at the fact that in life,  nothing is constant but change. So, how would you expect us to remain static. Because states have been organising accomodation for pilgrims for donkey years, you expect us to continue in that same manner.
Bargaining arrangement
Looking at a very likely supposition that the Saudi government decides to build Hajj village about 100 to 200 kilometers away from Makkah and say all pilgrims will be accomodated there because Makkah is choked up.  Then they provide shuttle buses for pilgrims and then they give Nigeria a space. Are you telling me it is that time we can ask states to come and pay for accomodation which must be done wholly.
Or you want each of these states to come and negotiate for seperate rooms for their pilgrims? If they deal with one body, Indonesia that brings over 200,000 pilgrims, why should they deal with differently with each of the 36 states in Nigeria when the total figure in the country is less than 100,000. Another scenario is that where do you expect to get a better bargain?
Is it when you have a colletive bargaining of number or when you have divisive individual bargaining arrangement.  Definitley, it is in collective bargaining. Is it because of the interest of some people or because that is what they are used to; so we will not move to obvious and practical things? There must be change and people must accept change.