By Emmanuel Aziken, Political Editor
Former Governor Jim Nwobodo of Enugu State has warned the leadership of the All Progressives Congress, APC not to contemplate cancelling what he yesterday described as the "transparent and credible" primaries that produced Dr. Tony Nwoye as candidate of the party.
Nwobodo, who was Chairman of Governorship Election Planning and Strategy Committee in Anambra State said the warning was against the background of the fact that the primaries was transparently conducted and televised live with Nwoye polling 2,145 votes to the 931 votes polled by Senator Andy Uba.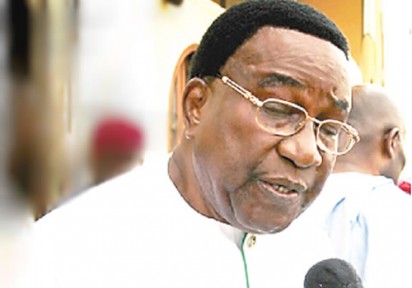 Senator Nwobodo joined  fray of those warning the party against the cancellation which even a fellow participant, Barrister Nonso Madu who lost claimed was free and fairly won by Nwoye.
"That election was transparent, free and fair and everybody saw   it on television from start to finish and hence no one should dare to nullify that election" Nwobodo said yesterday.
The former governor re-echoed his comments after the August 27 primaries in which he said the election primary was the most transparent he had seen in Anambra State.
Nwobodo had said: "I watched with keen interest the live transmission of the 2017 All Progressives Congress Governorship Primary for Anambra State, where Dr. Tony Nwoye was declared as the winner with a total of 2,146 votes.
"I  wish to congratulate the National Chairman and National Working Committee for making this possible. I also congratulate the Governor of Borno State, Alhaji Kashim Shettima, and his Committee for conducting a free, credible and rancour-free primary in the state, making it the first time any political party would conduct such a transparent and rancour free primary in the state" Nwobodo said.