FOR half a century,  Toyota Corolla has ruled its segment without looking back. From a small compact car fifty one years ago the Toyota Corolla has grown to become a class benchmark in every ramification, setting the pace in its segment in terms of quality, safety, comfort and drivebility. The durability, dependability, and reliability of the Corolla has endeared it to many all these years making it the preferred choice of many buyers in its segment.
One good thing about the Corolla is that every successive model has turned out to be a masterpiece and a huge improvement over its predecessor. Though Toyota Nigeria could not roll out the drums to celebrate the 50th anniversary of the Corolla last year in Nigeria, it quietly introduced the latest model which has taken over the road despite the recession and high cost of vehicles in the country.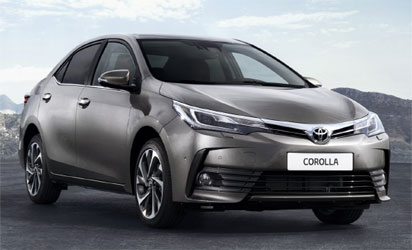 Global model
Even models of Toyota Corolla introduced over 25 years ago are still waxing stronger on the road. Corolla's exploit, however, is not only in Nigeria as close to 50 million units of the car have been produced and sold around the globe in over 150 countries, a record that is hardly marched by any other car model in the automobile world today.
Corolla is manufactured in 13 countries and 16 plants across the world and the production has been localised in each region. Corolla's production, outside Japan started in Malaysia and Australia in 1968 and today annual Corolla production outside Japan exceeds the production in Japan which signifies that Corolla is truly a global model not only in terms of sales but in production.
Available in saloon, hatchback, two-door, and estate versions at the beginning, Toyota has been able to make the saloon and estate more prominent in all the markets. Though it tried to build other models using the Corolla platform, but the saloon has remained most visible on the road. In Nigeria, however, Corolla has many admirers and users both in the new and used market segments. Vanguard investigation revealed that Corolla customers trust its capability and reliability.
Mr. Moses Ebosele, an auto journalist described Corolla as an amazing car. He said, "If you use a Toyota Corolla you will not like to use any other car again. In terms of maintenance cost, fuel consumption, comfort, durability, Corolla has no rival. Toyota took its time to build the car. For the past six years I have used Corolla I bought as used car, I have not done any repair on it except changing oil.
"Another essence is its resale value. From time to time people keep asking if I would like to sell it. I am sure if I put the car for sale today I would find a buyer before the close of work. That aside, in term of maintenance any mechanic can fix it and the parts are available.  In fact most companies are using the used Corolla instead of going for brand new cars. Another strong point is that the air conditioning system is perfect too. You can't fault it. Previously, I have used two different brands before the Corolla and the difference is their.
At the popular Berger used car market in Lagos, some of the car dealers explained why Corolla is the most sought after car model. Mr. Olusegun Oni, a car dealer said, "Corolla is the most reliable of all the cars models we are selling.  If you use your Corolla well even as a used car it can last for more than ten years. No other car has this record. Toyota models are reliable but Corolla has no equal."
He also listed attributes that Mr. Ebosele noted earlier, adding that Corolla is a model any dealer would like to have in his showroom. "You don't lose sleep over it, just like the other Toyota models," he said.
Mr. Tony Ubani has this to say about Corolla:  "I never knew driving could be very interesting until I drove Corolla." For Mr. Victor Otigbu, "Corolla is simply beautiful. It gives you excellent feeling." Another colleague, Mr. Dayo Adesulu said, "It is a fantastic car, fuel efficient, easy to maintain."