By Emma Ujah & Peter Egwuatu
The Central Bank of Nigeria (CBN), yesterday, boosted the foreign exchange market by offering a total of $195m in three segments of the market, ahead of today's Monetary Policy Committee's decisions, even as the naira appreciated to N360.31 per dollar.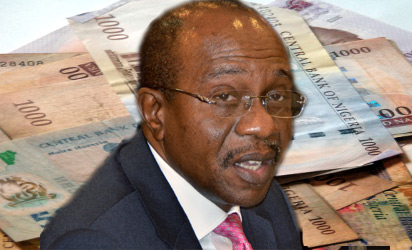 In the wholesale Secondary Market Intervention Sales (SMIS), of the inter-bank Foreign Exchange market, it auctioned $100m and also intervened in the Small and Medium Enterprises (SMEs) and invisible segments, with the sum of $50 million and $45 million respectively.
This week's intervention is significant, coming in the midst of the Monetary Policy Committee Meeting taking place on Monday, September 25 and Tuesday, September 26, 2017.
It will be recalled that yesterday's sale follows the major intervention, last week, to the tune of $545 million, as the retail Secondary Market Intervention Sales (SMIS) received the largest intervention of $285 million. Other segments include the $100 million offered for wholesale SMIS, $90 million for Small and Medium Enterprises (SMEs) window and $70 million for invisibles such as Basic Travel Allowances, tuition fees and medical payments.
Meanwhile, the naira, yesterday, appreciated to N360.31 per dollar in the Investors and Exports (I&E) Foreign Exchange, forex Window.
Data from the Financial Market Dealers Quote, FMDQ showed that the indicative exchange rate for the I & E Window, known as Nigerian Autonomous Foreign Exchange, NAFEX declined to N360.31 per dollar, yesterday, from N360.50 per dollar on Friday last week. Hence the naira has depreciated marginally by 19 kobo per dollar.
Meanwhile, in the parallel market, the naira yesterday depreciated to  N367 per dollar  from  N366  per dollar it exchanged hands with on Friday.   The naira had traded highest this month at N362 per dollar, while the lowest was N350 per dollar in the I & E Forex Window.