By Ikechukwu Nnochiri
ABUJA – Unknown whereabout of the leader of the proscribed Indigenous People of Biafra, IPOB, Mr. Nnamdi Kanu, may have placed a serving Senator, Enyinnaya Abaribe and a Jewish  High Chief Priest, Immanuu El-Shalom,  at risk of being sent to prison.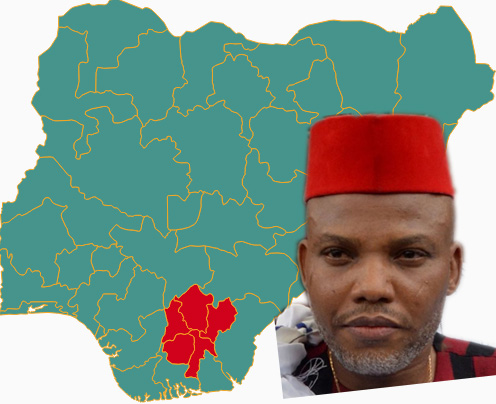 Both Abaribe who is representing Abia South Senatorial District and El-Shalom, had on April 28, entered an undertaken to produce Kanu before the Abuja Division of the Federal High Court on October 17 to face treasonable felony charge the Federal Government preferred against him and four other pro-Biafra agitators.
Kanu was billed to appear before trial Justice Binta Nyako to be re-arraigned on an amended five count charge marked  FHC/ABJ/CR/383/2015, alongside his co-defendants, Chidiebere Onwudiwe, Benjamin Madubugwu, David Nwawuisi and Bright Chimezie.
However, Kanu's lead counsel, Mr.  Ifeanyi Ejiofor, in a telephone interview with Vanguard last night, said he does not know the whereabout of his client.
Ejiofor said his only contact with the IPOB leader was few minutes before the Nigerian Army "invaded" his (Kanu's) hometown.
He said that Kanu called him on phone, complaining that he was under attack from soldiers that were deployed to his compound by FG.
Ejiofor who said he would not be surprised if FG decides to move against those that stood surety for his client, maintained that the burden was on the prosecution to produce Kanu in court on the adjourned date.
"The fact is that they are in a position to produce him at the next adjourned date. It is public knowledge that my client had before his house was invaded, always made himself available for trial.
"He never evaded trial as he made it known that he was ready. If he wanted to jump bail,  he would have done so immediately he was released from prison. But he did not run.
"The last time I spoke with my client was the day his house was invaded by soldiers. He called me and complained that he was being attacked by soldiers who he said were shooting sporadically. since then, I have not heard from my client again.
"If he is alive,  they should tell the court on that day.  They will not only explain to the trial court, but  will also produce the soldiers that went to his home to attack him", Ejiofor added.
FG had among other things, alleged that Kanu, his co-defendants and other persons still at large, had "on diverse dates in 2014 and 2015 in Nigeria and London, United Kingdom, did conspire amongst yourselves to broadcast on Radio Biafra monitored in Enugu and other areas within the jurisdiction of this honourable court, preparations being made by you and others at large, for states in the South-East and South-South zones and other communities in Kogi and Benue States to secede from the Federal Republic of Nigeria with a view to constituting same into a Republic of Biafra and you thereby committed an offence punishable under section 516 of the Criminal Code Act, Cap C38 Laws of the Federation of Nigeria, 2000".
It told the court that Kanu had "on or about the 28th April, 2015 in London, United Kingdom did in a broadcast on Radio Biafra monitored in Enugu, Enugu state and other parts of Nigeria within the jurisdiction of this honourable court, referred to Major General Muhammadu Buhari, GCON, President and Commander in Chief of the Armed Forces of the Federal Republic of Nigeria as a paedophile, a terrorist, an idiot and an embodiment of evil, knowing same to be false and you thereby committed an offence contrary to section 375 of the Criminal Code Act, Cap C. 38 Laws of the Federation of Nigeria, 2004".
Kanu who is the 1st defendant, is facing four out of the five count amended charge.
Meanwhile, as the scheduled trial date draws closer, insinuations are rife that the IPOB leader who has remained incommunicado since the Nigerian Military began its code-named Operation Python Dance II,  in the South East, particularly in his state, may not make himself available "for security reasons".
This was even as a member of the prosecution team that spoke to Vanguard last night, disclosed that FG would on October 17,  not only move the court to revoke Kanu's bail, but equally apply for a bench warrant to be issued against his three sureties.
According to the government lawyer who craved anonymity because he was not cleared to speak on the matter:  "The position of the law is very clear to the effect that when a defendant jumps bail,  his surety is made to pay for the offence upon which the trial was based. It is there in the Administration of Criminal Justice Act.
"If for any reason Kanu fails to submit himself for trial on October 17, we will have no other option than to apply for immediate arrest of all his three sureties. We will move the trial court to issue a bench warrant against them.
"We have their full details, and don't forget that they were made to sign an undertaken by the court before the defendant was released on bail", he added.
It will be recalled that Justice Nyako had in a ruling on April 25 released Kanu on bail after he had spent a year and seven months in detention, though the court okayed his co-defendants to remain in prison custody.
The court which stressed that it released Kanu on health ground, however compelled him to produce three sureties, including "a Jewish leader" and a "highly placed person of Igbo extraction", who all deposited N100million each.
Aside Abaribe and El-Shalom, a Chartered Accountant residing in Abuja, Mr. Tochukwu Uchendu, equally signed undertaken as Kanu's third surety.
Kanu who was arrested upon his return to Nigeria from the United Kingdom on October 14, 2015, got his sureties, three days after he was granted bail by the high court.
The IPOB leader had earlier filed a motion, asking the trial Judge to vary some of the bail conditions he maintained were arbitrary and unconstitutional.
As part of his conditions for bail, Kanu was expressly barred by the court from attending any rally or granting any form of interview.
"I must stress it here that the defendant must not attend any rally. He must not be in a crowd exceeding 10 persons", the Judge warned.
The court  insisted that the IPOB leader must sign an undertaken to make himself available for trial at all times.
He was equally ordered to surrender his Nigerian and British international passports.
In his motion for variation of the bail conditions, Kanu contended that some of the conditions were directly in conflict with his constitutionally guaranteed fundamental human rights and therefore ought to be set-aside.
Aside challenging the variation request, FG, in a fresh application it filed on August 25, applied for Kanu's bail to be revoked.
It predicated the application on section 169 and 173(2) of the Administration of Criminal Justice Act, 2015.
Describing Kanu as a threat to national security, FG alleged that he engaged in several acts it said were capable of sparking civil unrest and anarchy in the country.
It specifically applied for an order "directing the arrest and committing of the 1st defendant to custody pending trial".