BY JIMITOTA ONOYUME
PORT HARCOURT – GOVERNOR Nyesom Wike has been invited to Chatham house , the Royal Institute of International Affairs to speak on development issues in the country.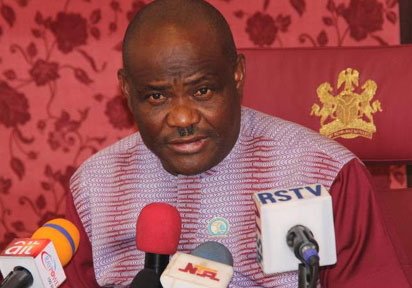 Governor Wike who played host to a visit from Chatham house in Government House, Port Harcourt Wednesday said anti corruption agencies could only achieve meaningful impact in the anti graft war when they operated independently from political manipulations.
He said the fight against corruption had been ineffective in the country because of undue political interference with the process.
He said: "It is difficult to fight corruption when the institutions are weak. It may just be a political tool to attract sympathy from western countries.
In Nigeria, the institutions are subservient to the President. Here, Police is central, but the institution is now being used for illegal acts. That is corruption.
The fight against corruption must be holistic. It should not be a political weapon against opponents of the government. We have instances of mass corruption in the state, but Federal agencies frustrate all attempts at prosecution. This is because the affected persons are influential members of the ruling party ".
Wike said the fight against corruption should not be selective, stressing that the federal government should not create sacred cows in the anti graft war