By Olayinka Latona
THE Catholic Archbishop of Lagos, Most Rev Adewale Martins has called on the federal government to listen to divergent voices of Nigerians who are clamouring for restructuring of the country.
Speaking yesterday at his 5th installation anniversary ceremony, at the Holy Cross Cathedral, Lagos, Bishop Martins described restructuring as one of means through which the country will move forward.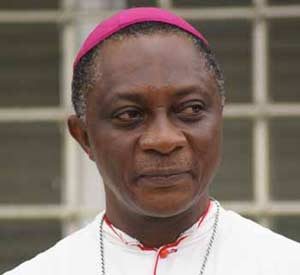 In his words: " The federal government should please listen to divergent voices that are calling for restructuring of our country and see how the interest of all the various groups in the country can be properly represented in our journey towards building a better Nigeria."
He also called on the National Assembly to commence a bill that would make it mandatory for all serving government officials to partronize the nation's health facilities and also strengthen the National Health Insurance Scheme for Nigerians to have access to quality health care at minimal costs: " It's time we began to equip our local medical facilities in line with international standards in order to help halt medical tourism which is gulping large portion of our scarce foreign exchanges. It will also reduce capital flight and also provide more jobs for our health professionals", he said.
Frowning at the declining state of the nation's economy, the archbishop called on government at all levels to intensify efforts to make life better for the masses whom they have been elected to serve.