…As Amusa, Lindley file out for 100m hurdles 
AS it was at the 2013 Worlds in Russia, Nigeria's medal hope Blessing Okagbare-Ighoteguonor will be hoping for another out of the blue performance, to land a medal in the face of the tough American challenge in the women long jump finaltonight at 7.10pm.
Defending champion, Brittney Reese with a season's best of 7.31m in Moscow narrowly edged Okagbare-Ighoteguonor to the second spot. In that year, the Nigerian athlete who won two silver medals, struggled for form. However, she came up with her best ever jump a 7.00m, while Reese  leapt  7.01m to win the gold.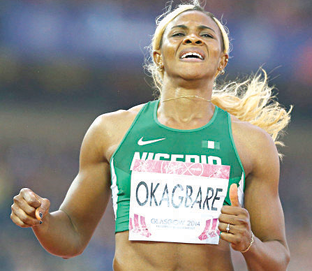 As the 12 women in the field contest for honours in the ever unpredictable event, officials are hopeful Okagbare-Ighotegunor with a season's best of 6.77m will repeat her Moscow 2013 feat and even surpass the 7.12m African record held by Chioma Ajunwa since 1996.
That is the only performance that may guarantee her a medal. There are other women like Tianna Barttoleta with 7.01m season's best and Ivana Spanovic of Serbia who is the third woman to make 7m this season with a jump 7.24m. Briton Lorrine Ugeh is another strong contender with 6.97m season best.
In the women hurdles Tobi Amusa and Lindsey Lindley will seek qualification to the semi-finals of the 100m hurdles. Amusa is heading to Championships with a season's best of 12.57 seconds, while Lindley has done 12.90 personal and season's best. These performances barring any unforeseen circumstances are good enough to see the Nigerians into the final.