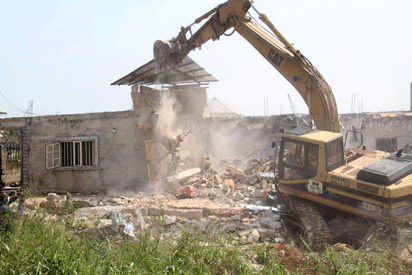 By Elizabeth Uwandu
lagos—Residents of Balogun Extension, in Iwaya a Lagos suburb, rendered homeless owing to the demolition of their buildings weekend, by the Lagos State government, yesterday, lamented that they had been sleeping in the open since the demolition exercise.
The demolition which occurred barely 48 hours after the corpse of a four-year-old girl was found in a shrine around the area, had a combination of security personnel from the military and police on standby, to avoid any likely resistance from the residents or attack on operators of bulldozers used for the exercise.
Vanguard learnt that  there had been a contention between the community leaders and management of the University of Lagos, UNILAG, over the land.
Lamentation
One of the residents, Mr Anthony Ekediare, whose bungalow was demolished, claimed he never received any notice to that effect, adding that he lost N800,000 cash in the process.
According to him : "The forceful evacuation was a disaster, I lost everything I have laboured for all my life. The bungalow I built for N6 million less than three years ago. I also lost properties worth N2 million and the N800, 000 I brought home, from the sale of my car.
The baffling thing was that no notice was given at all. It was about a year ago that some task-force officials came here and said the houses were not properly planned. They left us after our lawyers showed them letter of occupancy and ownership. But to my greatest surprise, I received a call that my bungalow including other houses within this vicinity were being demolished", he said, trying hard not to betray emotion.
Another affected resident, Mrs Victoria Ude, a nursing mother, said : " The death of a four-year-old child whose corpse was found close to a shrine at Pedro street brought this calamity on us. We have lost all our property .
''As I speak, I and my  senior wife, with our 10 children have no place to sleep. We are homeless."
Rev. Emmanuel Folorunsho Boladale, founder of God's Blessing Evangelical Ministry, whose church also served as his residence, lost everything including the church's musical instruments to the demolition.
Lamenting, Rev. Baladele said: " I have been here since 2007 and I have the Certificate of Ownership for the building which served as home for my family and grandchildren. We have no where to go, we are basically destitutes."
One of the pitiable sights was that of occupants of 38 Balogun Extension, a new one storey building where the  tenants claimed they had not exhausted their N500,000 rent when the incident occurred. Vanguard gathered that owner of the building with an undisclosed identity slumped during the demolition.
One of the affected occupants, Mrs Alaba Olufemi, said that: "I paid N500,000 for a two bedroom flat, six months ago. I was even contemplating to pay same amount for the two years agreed with the landlady, when this demolition took place."
We were brutalized, arrested tear gassed — Victims
Miss Chioma Uwandu, a human rights activist, and founder of Impact Her Initiative, IHI, alleged that security agents who provided cover for operators of the bulldozers fired tear gas at the affected occupants during the exercise.
She said: "The humiliation of being trampled on and tear gassed is more than losing the rent I paid. As I was struggling to salvage some of our properties, a policeman shouted at me to leave the scene. As if that was not enough, we were tear-gassed. I and my younger sister almost collapsed. We had to abandon everything for safety. I am shattered now."
Corroborating Miss Uwandu's claim, one Mr Romanus said some community members who tried to speak with operators of the bulldozers to allow them remove some of their belongings before their buildings would be brought down, were arrested . " When I tried to inquire what was happening, the security men dragged me to their vehicle; it was the outcry of people that made them release me," he stated .
Meanwhile, a top management staff of UNILAG, who spoke on the condition of anonymity, insisted that the community leaders had been served notices severally but that they called their bluff.
He said: "It has been a long standing issue and the community leaders knew long ago that they were on burrowed land. Several notices were unheeded. And this has hampered numerous projects."