…It's an act of cowardice—MOSSOB
By Chimaobi Nwaiwu& Chinonso Alozie
The Indigenous People of Biafra, IPOB,   has rejected the withdrawal of the quit notice issued to Igbo resident in the northern part of Nigeria by the Coalition of Northern Youth Groups , saying that it was inconsequential.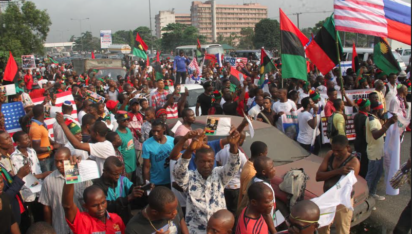 IPOB in a statement by its Media and Publicity Secretary, Mr. Emma Powerful urged Southerners residing in the North to return home before October 1, 2017.
The statement reads: "Nigeria is crumbling today before our eyes due to the arrest of Mazi Nnamdi Kanu. Those wishing for him to be arrested again are basically signing the death warrant of Nigeria. Our quest to restore Biafra is unstoppable and the sooner the North knows this, the better for everyone.
"It is inconsequential to IPOB whether the quit notice is rescinded, suspended or withdrawn because it will in no way impact the pace and direction of our effort to restore Biafra. Threats do not have any effects on us, so our advice to the Arewa North is to please stick to the October 1 deadline.
"If Nigeria has any case against Nnamdi Kanu, they should present it before the law courts. We urge all Southerners living in the core Northern states to return home before October 1, 2017, as history will most definitely repeat itself. Southerners were massacred in the pogroms of 1966 and 1967 after similar assurances were issued then to the people should remain in the North.
"The presence of a serving governor and a Senator of the Federal Republic of Nigeria during the press briefing confirms what we have always known and said that the incitement to genocide which is what the quit notice is all about has the blessing of the Arewa elders and political class.''
Act of cowardice—MASSOB
Similarly, the Leader of the Movement for the Actualization of the Sovereign State of Biafra, MASSOB, Comrade Uchenna Madu, yesterday, described the withdrawal of the quit notice as an act of cowardice.
The group in a statement said: ''The Movement for the Actualization of the Sovereign State of Biafra (MASSOB) describes the withdrawal of the quit notice order to the people of Biafra by Arewa people issued through the coalition of their youth wing as an open sign of cowardice and political impotence.
"It is better not to declare a war one cannot win than to threaten and retreat. MASSOB warns that Mazi Nnamdi Kanu should not be touched. Any attempt to arrest or harass him will bring a quicker platform for Biafra actualization and restoration. Nnamdi KANU is a known non-violence Biafra freedom fighter leading a non-violence group.
''It is a blackmail and cheap propaganda by   Arewa Youths and their leaders to allege that Nnamdi Kanu is stockpiling weapons of warfare against Nigeria. This devilish campaign of calumny against the non-violence Biafra agitators will never be realised.''