By Dirisu Yakubu
ABUJA-Former Minister of Foreign Affairs and Chairman, Disciplinary Committee of the Peoples Democratic Party, PDP, yesterday mocked the ruling All Progressives Congress (APC), saying despite being in power for over two years, the party has no Board of Trustees (BoT).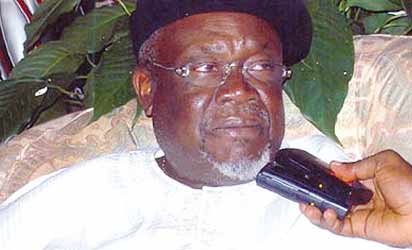 Ikimi made the remark while speaking on behalf of the PDP BoT Chairman, Ambassador Walid Jibrin, who was called upon to give his goodwill message before Chairman of the Special Non-Elective Convention Planning Committee and Governor of Delta State, Dr. Ifeanyi Okowa declared the convention open.
"The APC has no BoT, no NEC meetings. While we are here holding a convention, the APC can't hold a convention. The difference is clear; it's like light and darkness," Ikimi said, a remark that drew thunderous applause from party supporters present at the arena.
On his part, Governor of Ekiti State and Chairman, PDP Governors Forum, Ayodele Fayose has called on Nigerians to realize the mistake they made in voting in Muhammadu Buhari as President, by returning the PDP to power in 2019 saying, "We entered one chance," a popular slang which translates as (We didn't look before leaping). Narrating how he came to the conclusion, Governor Fayose recalled that in one of his trips to the northern part of the country recently, a young man had approached him with a finger raised up, pointing to the sky.
"I asked him the meaning of that and he told me, that we entered one chance," he noted, urging Nigerians to get ready as the party get set to reclaim Aso Rock in 2019. "I don't know how many of you are ready but as many of you that are ready, I will welcome you to Aso Rock in 2019," he boasted.
Posters, posters everywhere
Although, what happened at the Eagles Square was a Non-Elective Convention, politicians took advantage of the huge gathering to send a clear message of intent. Across the large expanse that is the Eagles Square, Posters and T-shirts announcing the 2019 Presidential ambitions of Ayodele Fayose, Sule Lamido and Ibrahim Shekarau were common sight. Singers, dancers and drummers added to the spectacle as they eulogised the aforementioned in superlative tones.
Senator Abdul Ningi, National Organising Secretary of the National Caretaker Committee and Senator Bala Muhammed sent a clear message that the battle for the governorship of Bauchi State would be keenly contested. It was a miracle of sort that supporters of the two politicians did not clash while the exercise lasted.
Not left out were the duo of Dr. Bello Muhammed and Senator Patricia Akwashiki whose posters announced their interest in the governorship elections in Zamfara and Nasarawa State respectively.