By Luminous Jannamike
ABUJA – Candidate of the All Progressives Grand Alliance (APGA) in the last Edo governorship election, Chief Osaro Onaiwu, Tuesday described the impeachment saga that played out in the Edo state House of Assembly as disgrace to democracy and abuse of legislative order.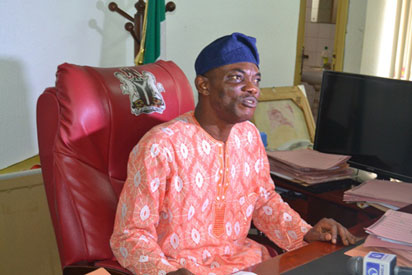 In a telephone chat with Vanguard, Onaiwu said the immediate past governor of the state, Adams Oshiomhole, and the entire leadership of the All Progressives Congress (APC) in the state should be held responsible for the thuggish behaviour and disgraceful conduct exhibited by the lawmakers before the impeachment of Justin Okonoboh as Speaker of the state Assembly on Monday.
According to him, Oshiomhole and the APC groomed and imposed thuggish elements on Edo people as their legislators in 2015; which he said was the reason leadership crises have continued to rock the Assembly, resulting in the emergence of four Speakers in two years.
He said: "the free for all fight that broke out in the state House of Assembly before the Rt. Hon. Justin Okonoboh was impeached is a disgrace to democracy and legislative procedures.
"Edo people should hold ex-governor Adams Oshiomhole and the APC leadership in the state for the imbroglio and display of rascality that have come to be associated with the Assembly since 2015.
"They masterminded the subversion of people's will in several constituencies as expressed through the valid votes and imposed thugs they have groomed over time as lawmaker. And, that is why the Assembly has known no peace.
"Who could have imagined that Edo state would ever have on record four Speakers in two years?"
The political leader further said it was against the sense of fairness and equity to have the Deputy Governor, the Speaker of the State Assembly, and the Chief of Staff to the Governor from Edo North Senatorial District; stressing that leadership of the Assembly be reversed to status quo ante.
"We are talking about restructuring and equity in Nigeria. But charity must begin at home. How can the Deputy Governor, the Speaker of the State Assembly, and the Chief of Staff to the Governor be allowed to emerge from the same zone?
"If the grand design to impeach Governor Obaseki, as we have reliably gathered, comes to pass; that means the rest of Edo is finished. This is why I call on the state lawmakers to nullify Hon. Okonoboh's impeachment as Speaker and revert to status quo ante.
"However, I want Governor Obaseki to know that Benin kingdom is behind him. He should continue his good works and have no cause to worry or fear," Onaiwu said.