By Vincent Ujumadu
APC governorship  aspirant,  Chief Barth Nwibe has urged the party leadership to fence out all aspirants associated with corruption from the governorship primaries.
Expressing concern that many aspirants joined the party for the sole purpose of the primaries, Nwibe said that if allowed such persons could turn out to be dangerous and cause problem in the party in future.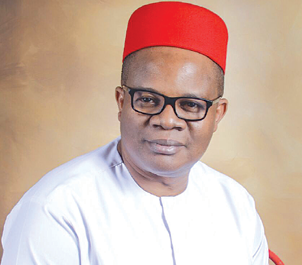 He said: "We have so many aspirants, but we have two kinds of aspirants. There are some of us who believe in the change and stayed in opposition during the Jonathan era.
"The other group is made up of those who came in after APC won the presidential election, primarily to seek the office of governor of Anambra State. APC has suddenly become strong because everybody has realized that there was a mistake in the past. "While I believe in the maxim that says the more the merrier, we know every aspirant's back ground.
"We should not allow people with corrupt political tendencies to mess up APC. For our country to develop politically there have to be choices, like in every mature democracy.
"It is only in Nigeria that people who do not have character jump from one party to the other at the blink of an eye. There are people in APC who stayed in opposition for 15 years and people who just defected to the party will want take the ticket."