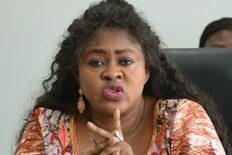 Senator Stella Oduah
Sen. Stella Oduah, representing Anambra North Senatorial District in the National Assembly, says she is training 1000 people in various skills including agriculture, to be self reliant.
Oduah said in an with newsmen on Thursday in Abuja that the training was to empower poor members of her constituency.
She said that the first batch of 350 beneficiaries was undergoing training at Ebonyi State University and MTS in Onitsha.
The senator explained that the training focused on Agriculture value chain as many of her constituents were poor farmers and fishermen.
"As of today we are training in various universities including Ebonyi and MTS Onitsha, about 350 youths out of 1000 that are currently acquiring skills in various fields.
"The essence of that is my constituency is a very poor one; we are farmers and fishermen because we already have those innate skills.
"I promised them that lets focus on that innate skills, let's acquire a standardised skill that will give them the opportunity to improve on what they already know.
"So if you can cultivate one hectare of land, you should be able to also cultivate 10 hectares after the training, so that the output would be commensurate with the input.
"In that way you create entrepreneurs that are doing what they are already used to enjoy doing without anybody paying them," she said.
She said that the targeted 1000 constituents would all be trained by 2018.
"We are going to create clusters in every local government.
"We are going to call them fish villages and farm villages, so that youths can actually live there, farm there and trade there.
"My interest is to take the skill which God has already given to them to a commercial level," Oduah said.
NAN