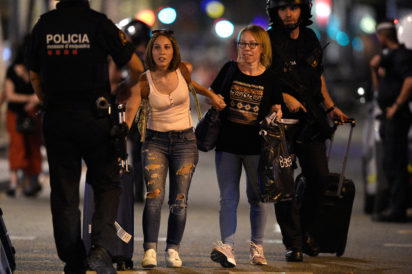 Policemen accompany clients of a store outside a cordoned off off area after a van ploughed into the crowd, killing 13 persons and injuring over 80 on the Rambla in Barcelona on August 17, 2017. A driver deliberately rammed a van into a crowd on Barcelona's most popular street on August 17, 2017 killing at least 13 people before fleeing to a nearby bar, police said. Officers in Spain's second-largest city said the ramming on Las Ramblas was a "terrorist attack". / AFP
A driver deliberately rammed a van into pedestrians on one of Barcelona's most popular boulevards on Thursday, killing at least 13 people in what Spanish police called a "terrorist attack".
– What happened? –
Around 5:00 pm (1500 GMT), a vehicle slammed into a crowd of pedestrians on the famous Las Ramblas boulevard.
The promenade in the heart of the city centre is one of the city's busiest streets, normally thronged with tourists and street performers until well into the night.
Witnesses described scenes of chaos and panic, with bodies strewn along the boulevard as others fled for their lives.
Tom Gueller, who lives on a road next to Las Ramblas said he saw the van speeding along the boulevard.
"It wasn't slowing down at all. It was just going straight through the middle of the crowds in the middle of the Ramblas," he told BBC radio, referring to the pedestrianised area.
– Who are the victims? –
Regional interior minister Joaquim Forn said at least 13 people had died and more than 50 were injured in the attack.
Belgium's Foreign Minister Didier Reynders said on Twitter a Belgian national was among those killed in Barcelona. He told Belgian media the victim was a woman.
The Dutch Foreign Ministry also said in a statement that three Dutch citizens had been injured in the attack and were "in contact with their relatives".
"They are out of danger and have been taken to a hospital," the ministry said.
A Greek diplomat in the city said three nationals had been injured — a woman and her two children.
– Who is behind it? –
Police in the Spanish region of Catalonia where Barcelona is located said they have arrested two men and are treating the incident as a "terrorist attack".
One of the suspects was named by the police union as Driss Oukabir.
Police gave no further details about the suspect and denied earlier reports a perpetrator had been holed up in a bar.
Catalonia's regional president said police later arrested a second suspect.
The Islamic State's propaganda agency Amaq claimed that "soldiers" from the jihadist group carried out the attack, according to the Site Intelligence Group which monitors Islamist websites.
"The executors of the Barcelona attack were soldiers of the Islamic State," the Amaq outlet said, quoted by SITE Intelligence Group.
– How did authorities respond? –
Emergency services quickly arrived on the scene and cordoned off the area, with several ambulances and police vehicles responding.
The city also closed down metro stations in the area, with authorities telling people to stay away from the area.
Prime Minister Mariano Rajoy tweeted that he was in contact with the local authorities, saying the priority was to help the victims and facilitate the work of security forces.
Police appealed to people to stay in their homes and avoid unnecessary trips.
– Previous attacks in Spain –
Spain was hit by what is still Europe's deadliest jihadist attack in March 2004, when bombs exploded on commuter trains in Madrid, killing 191 people in an attack claimed by Al Qaeda-inspired extremists.
In July 2015, a hooded attacker opened fire outside a hotel in downtown Barcelona near Las Ramblas boulevard, leaving two people injured, police said.
No suspected motive for that attack was given.