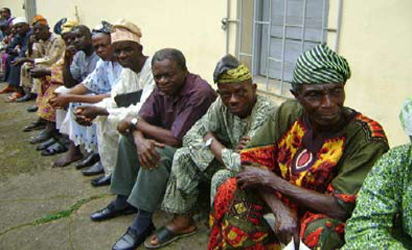 A cross section of pensioners( Note this image is used to demonstrate the story
By Emma Amaize
ASABA—National Association of Military Pensioners, NAMP, yesterday, called on Acting President Yemi Osinbajo to issue a presidential order to the Military Pensions Board to immediately pay the entitlements of three military retirees, who fought in the Nigerian Civil War.
National President of NAPMP, Benson Eromafuru, in a statement, said: "L/Cpl Peter Oderhowho, 63NA/110205 is being owed 35 years pension and 53 percent arrears of increment, while Private Ogbetuo Joseph, 63NA /217862, is owed 32 years and 53 percent arrears of increment."
He said the new Chairman of the board, Brig Gen Adeope A. A., had recently promised to commence payment of the entitlement of the third retiree, Private Omokere Joseph, 63NA/214107, owed 13 years and 53 percent arrears of increment.
Eromofuru appealed to the Acting President to give the directive as the affected retirees have suffered a lot since their retirement, waiting for their pension and other legitimate entitlements after serving their country meritoriously with nothing to fall back on.