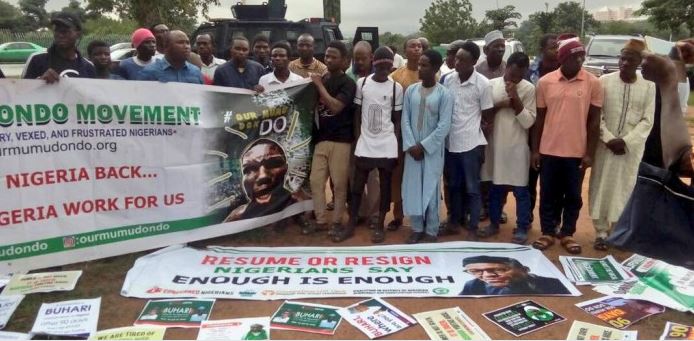 Sit-out protesters in Nigeria and London to demand Buhari's return or resignation
As Jim Iyke, Aisha Yesufu hit the streets
The protest demanding the resignation of President Muhammadu Buhari yesterday gathered momentum with Aisha Yesufu, co-convener of the Bring Back Our Girls (BBOG) movement and Jim Iyke, popular Nollywood actor, joining the protesters.
The protesters, who began their sit-out at Unity Fountain, Abuja, on Monday, are demanding that Buhari return to the country or resign.
The president has been receiving medical attention in the United Kingdom since May 7 when he left the country.
On Tuesday, the police clamped down on the protesters, alleging that hoodlums had infiltrated the group.
But speaking to journalists yesterday, Charles Oputa, popular musician, better known as Charly Boy, said the group would not be deterred, despite the clampdown.
Similarly, Jim Iyke also justified the group's call for the president to return to the country or resign.
He said the group would remain united in its cause, no matter what happens.
"Enough is enough. It is a simple thing, our mantra is one, our decision is one," he said.
Aisha Yesufu, who is joining the group for the first time, had also asked the president to resign earlier in May.
She said nothing was working in Nigeria with an acting president piloting the nation's affairs.
According to her, "when are we going to realise that this acting president thing is not working out, it's really not working out?" she asked.