By Davies Iheamnachor
KULA—THE people of Belema and Ofuyama communities in Kula Kingdom, Akuku-Toru Local Government Area, Rivers State, are on the warpath with Shell Petroleum Development Company over alleged abandonment in the last 37 years as well as destruction of economic life. Grumbling that their chief occupation, fishing, is now impossible following contamination of their river as a result of oil exploration and exploitation by SPDC, the villagers, stormed and occupied the company's Belema Flow Station and Gas Plant located in their area, last weekend.
The protesting villagers, who grumbled that they were jobless, suffering strange sicknesses with no health facility, electricity and also drinking polluted water, accused the firm of failing in its corporate social responsibility to the host communities.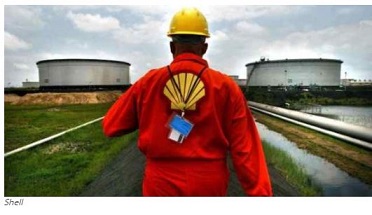 Shell alerts security agencies
However, Shell, operator of the Joint Venture, condemned what it described as illegal occupation of the facilities by the demonstrators, saying it had informed the appropriate authorities of the siege and was working towards resuming safe operations.
Divide and rule tactics: Speaking during the protest, the Amapulo I of Kula Kingdom, Chief Tamunoimi Owen Felix, who led a team of elders and youths from the Kula communities, demanded that SPDC should vacate the area. He said, "Come to Belema and other communities and see the royal palace, it is a show of shame to Shell. When they want to do something, they will go and pick some villagers from elsewhere secretly, come here and snap pictures and claim they have done something for us and when the people hear it, they become confused.
World class health facility
"I was a youth in 1980 when our king then, His Royal Majesty, King Felogbo Oko XXVII, leased this palace to Shell and they made so many promises; that they would train our people, empower us, bring world class health facilities, education and electricity and many more. Now I am over 60 years and I have retired from civil service job and none of these have happened."
Lease expired 2012
Chief Felix added: "Now, we have come together to say that we cannot allow Shell to use us again. It has not done anything for us. Nothing on health, nothing on education, we do not have water, no electricity, our people are not employed. In their camp here, all they have is a house boat and temporary structures so that any day they are tired, they will pack and go and there will be nothing left of them. Their lease has expired they should go, let another company come for us to start all over again.
"Their oil licence with the Federal Government had expired since 2012 and they are struggling to come back, but we are saying today that we do not want them again. Why we have not shut them down is that the economy of the nation is bad. It will take its effect on the nation and the state if we do," he told NDV. 
Hostile relationship 
One of the Kula elders, Mr. Walter Oputuboye, complained that women easily die during child birth in the community because they had to travel over three hours on speed boat to upland towns for good health facilities. Oputuboye stated: "Our relationship with Shell is too bad to the point that there is nothing the host communities can show forth, other than poverty, pain and untimely death. Our women die often while giving birth because there is not even the commonest medical facility in place, yet Shell has been operating here for more than 37 years.
"As a people, we have come to the realization that Shell operation in the OML owned by Oko royal house of Kula is disastrous for the people. There is nothing to show for the 37 years they have been here. Our environment has been so damaged that it has gotten to the point where our aquatic life is beginning to be affected. We can no longer fish in our sea because of oil spills."
Quit notice
Community Development Committee, CDC chairman, Ofuyama community, Mr. Jonah Joshua, lamented: "We have written a series of letters to Shell asking them to take our youths for training, but they refused. If you come to Ofuyama, you will not find any tangible project done by Shell. If you go to Shell and ask them to produce a son of Belema or Ofuayama working in the company, they cannot.  We are saying that they should not come back to renew their pipeline any longer. We are not interested again because they are not doing us any good.
"Two months ago, we had a meeting with them and we told them that if they do not enter into a GMoU with us and do not supply diesel to give us electricity, they should not come to our community again. We are not going to host any Shell facility again."
Monarch threatens $250m lawsuit
Amanyanabo of Ingeje, His Royal Highness, King (Barr) Godson Alabo, Egbelekro Opueze VI, who spoke to NDV on the vexed matter, asserted that the kingdom had concluded plans to press the $250 million suit against SPDC. "The eviction is a process by law, there is $250 million suit we are about to institute against Shell on the damage, gas flaring, sickness they have caused to our people and vegetation and the aquatic lives that they have destroyed. We got a hint that they are about to leave, so this time will be the best to take a legal step against them.
The monarch said:"We cannot continue to allow them operate the OML again because it is about 37 years since they started exploration activities in that community and when you go there, there is nothing to show that there is the presence of a multinational oil company like Shell there. No infrastructural development and no manpower development the place is just in squalor."
SPDC faults allegations
SPDC spokesmen in Port Harcourt, Mr. Joseph Obari, disagreed that the company neglected the Kula communities, saying that it had continued to discharge its corporate social responsibilities to communities in the area. "The company has implemented a Global Memorandum of Understanding (GMoU) in the area that led to a wide variety of social investment projects, including university scholarship awards in the communities," he asserted.
Obari said that the Rivers Government, after mediating in a disagreement in the community, created the Kula Project Implementation and Monitoring Committee (PIMC) in 2012. He explained that the PIMC served as an interim platform for the delivery of social investment initiatives and programmes worth N262 million in a Soku-San Berth project. According to him, these projects are separate from the GMoU projects initiated by communities using funds provided by the SPDCJV.
Litigation, disagreement affecting devt projects
"However, a GMoU was eventually signed in 2014 for the Kula Cluster, but has yet to be implemented due to continuing intra-community disagreements. As at 2015, there were a total of 11 court cases involving different groups with SPDC as a co-defendant in all of them. Sadly, these suits and disputes have rendered it impossible to implement more development projects planned for the affected communities. SPDC has continued to implement its social investment programmes in the communities despite divesting its equity in OML 24 in Kula and Belema communities," he said.
Obari said that the company had already spent N352 million on schools, sanitation, electricity, walkways and health outreach programmes in the communities.