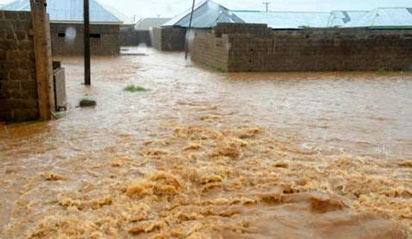 Flood: Photo: Kelechukwu Iruoma
By Emma Una
CALABAR—TORRENTIAL rainfall in the past one week has left over 30 homes submerged in Calabar, the Cross River State capital.
The downpour, which started on Sunday last week, persisted throughout the week leading to the flooding of buildings in low areas of the state capital, submerging some homes while perimeter fences were pulled down.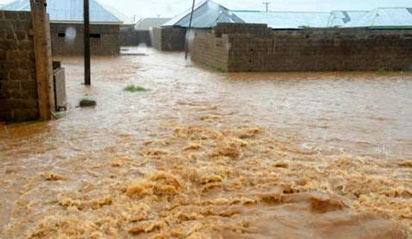 Places such as Target/Murray Streets, IBB Way/ Navy Barracks, Parliamentary Road, Akai Effa, Palm Street and several others were flooded and roads submerged, causing traffic jam in the town.
Businesses such a laundry, open air canteens, makeshift drinking parlours and churches were affected, as people found it difficult to go out for fear of being drenched and/or spending endless hours on the roads.
Mr. Eno Ikwen, the Manager of Nigerian Meteorological Agency, NiMeT, located at the Margaret Ekpo International Airport, told Vanguard that about 2,800 millimetres of rainfall were expected in the state in 2017.
He added that most of the rainfall will take place in the months of August and September as Calabar, with its proximity to the sea, is likely to experience extensive flooding during the period.
On his part, Mr. John Inaku, Director General of Cross River State Emergency Management Agency, SEMA, said the rains in the city had, in the past few days, left over 30 houses submerged and advised those living in flood-prone areas to relocate to upland areas to avoid being swept away by flood.