By Bonmi Sofola
SPOILT brats often get over the raging hormones that make them misbehave to the point of being delinquent, to transforming into well-behaved adults that are pure joy to their parents. Once in a while though, you get the really awful ones that make their parents wonder if they hadn't been given the wrong babies at birth.
Years ago, when I was between house helps, Latifat, a distant relation came for a brief stay pending when I would get a new help. Down the road lived Anita, with her rich parents. Within weeks, Anita struck some sort of friendship with Latifat that was baffling, they had absolutely nothing in common.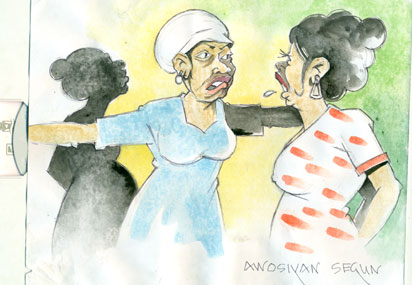 Latifat became Anita's side-kick. They did everything together and virtually lived in each other's pockets. Anita introduced Latifat to sex, and it didn't take long for the eager adolescent boys in the street to join the queue of happy samplers. It was a relief to send Latifat back to her parents, but having tasted the forbidden fruit, nothing could price her off the clutches of Anita. She visited
constantly and Anita's mum confessed she couldn't handle her daughter's escapades. It was a relief when she got admitted to the university and lived on campus. But relief turned to bewilderment as Anita now had a fertile ground for her shenanigans. Men fell over themselves to be with her and she'd had nasty incidents of irate boyfriends posting her nude pictures on their mobiles!
Then the inevitable happened—Anita got pregnant! "In this day and age?"  I asked Grace, her mother. "We all knew she liked boys, shouldn't you have kitted her up with some sort of contraceptives—and condoms:' She shook her head sadly. "You know Anita would be pleased herself no matter the discipline you try to give her," she told me. "Well, she's now pregnant at 22, and has
refused point blank to tell me who the father is. Can you have a word with her? Please? She might open up to you?" But why me? If she couldn't confide in her mother, where was the guarantee she would open up to me? Grace looked so forlorn and desperate that I promised I'd try.
I don't know what she told Anita because, bright and early the next day, which was a Saturday, she was at mine. All her defiant look was gone and instead, stood a very frightened young women. "What do you intend to do?" I asked her after a very awkward speech. "I don't know," she said sadly. "What does the father have to say about all this?" I prodded. "Aunty B, I don't really know who the father is ….' My jaw nearly hit the floor. "What do you mean?"
"I'd always been careful about contraceptives," she offered, and I sometimes carried condoms in my bag. But when we had the long vac, a group of us girls threw really wild parties whenever our parents travelled abroad. We girls often teased ourselves on how fast we could pull men and how many. At first we all used condoms, but as the holiday progressed, the parties became wilder
and there were instances when we had spur-of-the-moment sex. Condoms hardly featured then—especially with us being really drunk most of the time. The men didn't even bother to ask if we were protected and I was far too drunk to even think about the consequences—like SIDs or unwanted pregnancy. I knew we were being irresponsible but we were carried away by being lean, mean pulling machines—and having the best holiday of our lives.
"When I started feeling out of sorts weeks later, I never even suspected I could be pregnant, I'd had a period just before the holiday. But when the morning sickness started, I became panicky, I was all alone. In the last week, I'd gone to bed with four men without any protection. I don't even have a steady boyfriend, and it would be humiliating to now point at one of my 'conquests' as the father. I can't have this baby Aunty B! I'll have to get rid of it. Mum wants me to name a dad for the unborn child, but there really is none.
"To save face, I told my parents it was a boy I was seeing on and off and that it was really over between us. The relationship wasn't that serious, I told them. I said I must have missed a pill and that I haven't told the guy because he wouldn't want anything to do with it as I'd changed my number as soon as we broke off. I'm already three months gone as it is I wouldn't want a situation
when an abortion would be dangerous." I was on the verge of telling her exactly what I thought of her when she burst into tears. I was alarmed. Did she have it in her to be remorseful. Her sobs were really racking ones that I held her in my arms. 'I am a slut,' she sobbed. "I don't know how I got into
this mess, I will never forget how sad and beaten mum looked when she found out. My dad simply shrugged, shook his head sadly and left the room… I felt so ashamed."
When next I had a talk with Grace, I told her Anita had obviously turned a corner with this experience she'd had. She was sad about the abortion because of her religion, but what could she do? I kept mum about how Anita got pregnant, telling her the lie she'd already told her mother. It is now a sober and wiser Anita that scuttles in and out of the house. She graduates soon—but
what a way to grow up! She could easily have avoided her pain by listening to her parents instead of seeing them as the enemy….