By Davies Iheamnachor
ABUA/ODUA—REPENTANT kidnappers and cultists from Abua and Odua communities in Abua/Odua Local Government Area, Rivers State, have resorted to fish selling to eke out a living under a Community Life Intervention Project, CLIP, established by 58 communities in the area to give a new lease of life to their local economy.
Modest start: President of Abua Petty Traders Cooperative Investment and Credit Society Limited, which provides anchor for the intervention project, Dr. Fubara Egono, told NDV at Emuh community that women, youths, former and cultists take fish and other products on credit through the cooperative credit scheme and they pay just the cost of goods to the body.
"We started with the sales of frozen foods, some of our boys who were involved in kidnapping and other crimes have come to join. We have provided them with this immediate opportunity of sales of fish to enable them take the fish without paying the cost price to the cooperative."
Egbono revealed that the idea came as a result of the impoverished state of the people of the a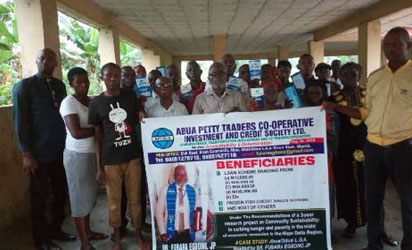 rea and the cooperative partners with the Rivers State Micro-Finance Bank to get loans to support the individuals, who have been trained to commence trading.
Appeal to NDDC: He asserted: "We have the youths, women and men before the local government, but for long, the youths in this community have been abandoned without jobs. The government has not looked on them at all. Our people have been dying of hunger. So we are using this scheme to develop our economy and improve the lives of our people."
The community leader advised: "People should not always be waiting for the government. We want to try ourselves to prove that even if we are economically poor, we are not poor in ideas. We are only poor because we don't have the resource to drive our economy but we want to use this cooperative to achieve it.
"We want the government, the NDDC, the multinationals to come and support us. We have written a proposal to NDDC to help us expand our saving stores and the cold room we are using. Since government cannot give jobs to the youths, it should empower the communities to create jobs for their people," he said. 
Orientation: According to him, "We are using the initiative of Rivers State Micro-Finance Bank loaning scheme that is savings- driven. We gave them a six -month orientation programme and it gives them a rich understanding of what business is all about. We opened an account in REMA bank for them and their saving will be well recorded."
"The people are very happy with this drive. People are now involved in different trades, they are drying and selling fish  while others sell red oil, rice, garri and others. We are seeing remarkable progress and happiness," he said.
Endemic poverty
Chairman of the Development Committee, Mr. Frank Egbono, told NDV: "We have sat in different forum to source for solution to the economic challenges we have within our communities. The level of poverty here is very high, so we needed an urgent idea to build our local economy to have food and money.
"The country is in recession so we thought it wise to ensure that there is food on the table of our people. Our first idea is the fishing and frozen food scheme that will aid them financially. Many of them lacked the capital to run the business but the credit scheme has encouraged them to be involved in business," he asserted.
A retired school head teacher and leader of the cooperative, Elder Woy Godwin, revealed: "We started with little amount of money. In the rural area, we are suffering. Our youths are living in frustration. We need the government to come and help us to have better money to run the scheme."
 We dug fish pond with shovel
Meanwhile, a youth from the area and graduate of Civil Engineering, Engr. Okeoke Harrison, who started a fish pond with some friends to make ends meet, said: "Since I finished school, there is no job, I have been looking for good opportunities to make ends meet, so I met with some friends and we used shovels to dig fish pond because in our society, it is clear that even graduates have nothing to do, which is why so many graduates have been involved in unlawful acts."