Arsenal youngster, Alex Iwobi said he was under pressure to reject Nigeria from then Three Lions coach Roy Hodgson who persuade him to play for England.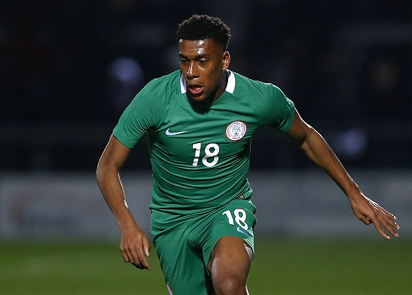 Iwobi revealed that he was comfortable with his choice to play for the Super Eagles instead.
"As I was about to play my first match for Nigeria, Roy Hodgson was in contact with Arsenal saying 'we'd like him to get involved with Under-21s' but my mind was made up. It's my decision.
"Originally, I'm from Nigeria. I always felt comfortable there. It was a hard decision because I'd played for England but I felt more at home there," he said, stressing, "When I first went they treated me like royalty, like a king. It's a big thing there to play for Arsenal too."
Iwobi broke into the team two years ago and is looking to hit the heights of his breakthrough campaign.
'I have a point to prove,' he said, adding, "I didn't play as much as I'd like to last year. I want to start the season with a bang."
Iwobi is in Sydney with the rest of the Gunners squad on the first leg of their pre-season tour but he revealed he has been working on his game throughout the summer.
"I've been doing a bit of running and ballwork to prepare," he said.
"I need to be a bit more hungry this year, add more goals and assists. At the start of last season I played a lot. I want to do that all year. Consistency is the key with me."