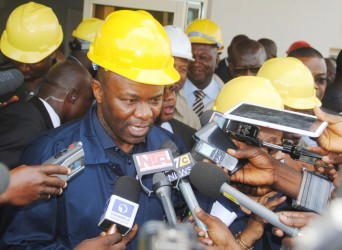 THE MINISTER OF STATE FOR PETROLEUM RESOURCES, DR EMMANUEL IBE KACHIKWU
….Will resume after assurance, clearance from military
..We can't confirm rescue of our workers from Boko Haram terrorists
By Michael Eboh and Ifeoluwa Mic-Braimoh
ABUJA — The Federal Government, yesterday, said it has suspended crude oil exploration in the Lake Chad Basin following attack on personnel of Nigerian National Petroleum Corporation, NNPC, in Borno State by suspected members of Boko Haram terrorist group.
Addressing newsmen in Abuja, Minister of State for Petroleum Resources and Chairman of the NNPC Board, Mr. Ibe Kachikwu, declared that NNPC would only resume production if it got sufficient assurance and security clearance from the military authorities, guaranteeing the safety of its personnel and operations.
He said, "Whether we will resume, obviously, will depend again on what security clearance is given. Certainly, we will not go back unless they give us clearance; just like we did not go in before they gave us clearance. Provided they are sufficient security clearance, I don't see why we would not continue to push."
He described the incident as unfortunate, lamenting that the attack still occurred after over six months in that area and despite the fact that there were over 200 security personnel protecting the oil exploration team, comprising members of the military and the Civilian Joint Task Force, CJTF, and others.
He said, "The lessons we are going to take away from this incident is that we are going to look at the security apparatus and find out whether they are a little bit more we can do. I know that they were over 200 security personnel, between the military, the CJTF and others. They were very well protected, and as I said, the activities had been going on for over six months."
He stated that adequate security clearance was obtained from the military authorities before exploration work resumed in the Lake Chad Basin, adding that the day of the attack was supposed to be last day of the operation of the team.
Yet to confirm  rescue
He further stated that the NNPC is delighted by the report of some rescue of the victims, noting, however, that it cannot actually confirm the rescue.
"We await official confirmation from the military authorities in line with established protocols," Kachikwu noted.
He further stated that the military is still collating data concerning the attack and cannot confirm the actual number of people who died.