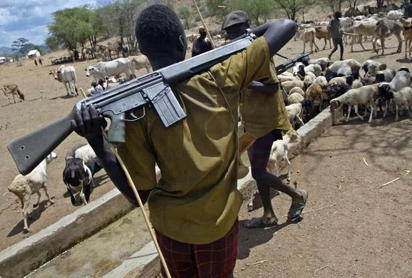 Armed herdsmen
By Emeka Mamah
Enugu— There is tension in Adani, Uzo-Uwani Local Government Area of Enugu State, following a clash between some herdsmen and natives over alleged destruction of farmland.
State Police spokesman, Ebere Amaraizu, who reacted to the story said the problem "revolved around some alleged mischief makers who shot and killed some cows belonging to a pastoralist and shared their meat inside the forest after allegedly injuring the pastoralist," adding that the pastoralist "is now responding to treatment at Our Lady Health of the Sick Hospital, Adani."
The command, however, maintained that the situation never gave rise to any panic or disturbance or people deserting the community as people are going about their lawful businesses in the community.
According to him, this was even as "the community leaders and the Sarkin Fulani  in Uzouwani, AlhajiTijani are meeting with a view to resolving the issues as suspects in the alleged  act have been identified for necessary action.
Adani is a stone throw from Nimbo, in the area where over 16 natives were murdered by Fulani herdsmen in Enugu last year, leading to national condemnation of the Federal Government over its inability to disarm herdsmen who move about with their AK-47 riffles killing innocent farmers across the country.
However, according to Amaraizu, the "Enugu State Police command wants the existing peace in our neighbourhood, community and state to be sustained," pointing out that, it was "on this basis," that the command was carefully collaborating with relevant stake holders including sister security agencies for a safe and secured environment."
The police further "warned that no act of lawlessness or taking of laws into hands by any group or persons will be tolerated… ," and asked residents to report "Any activity by any group or persons capable of truncating the existing peace in the state should   be reported to the law enforcement agents for appropriate action."