By Jimitota Onoyume
PORT HAR-COURT— HUNDREDS  of protesting contractors of Nigerian Agip Oil Company,  NAOC, were stopped by soldiers from  marching  on the oil giant in Port Harcourt, Rivers State, yesterday to register their grievances.
The contractors, drawn from Delta, Bayelsa, Rivers States and other parts of the Niger Delta region said, they were also landlords to the oil company, adding that they had not been paid  for clearing the pathway for pipelines laid by the oil giant which they tagged bush clearing.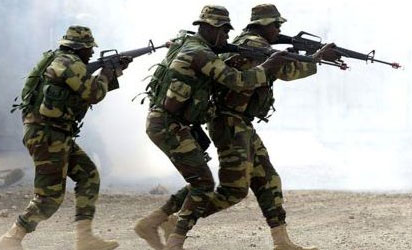 They said all efforts to persuade the oil giant to keep to its own end of the deal had been futile.
Segun Akobade, Wariboko Ogbeni and His Royal Highness Tailor Patrick, from Bayelsa State, who spoke to Vanguard,  said they came out to demand payment of their money, adding that they were surprised that the soldiers were mobilised to stop them from marching to the gate of the oil company,  Agip.
Some of the protesters who also came from Oleh, in Isoko South Local Government  Area of Delta State, said that the oil company  should remove its  pipelines from  their areas if it was not ready to pay them for the job they did.
Meantime, the protest caused serious traffic on the road to the company.
Soldiers and other stern looking security operatives who barricaded the road only allowed pedestrians and motorists that identified themselves as staff of the oil company to go through the road to the premises of the company while every other person was turned back.