By Emma Amaize
ASABA- POLICE have arrested a member of a seven-man armed robbery gang, Ifeanyi, aged 17 years, which waylaid and hijacked a Young Shall Grow luxury bus, robbed the occupants, along the Asaba-Benin expressway and drove away with the bus.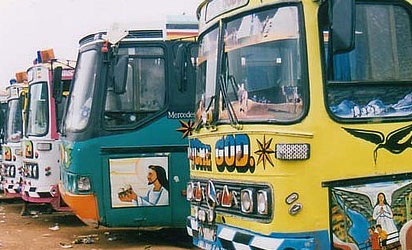 Delta State Commissioner of Police, who confirmed the incident and arrest of the suspect, said the police have since launched a manhunt for the fleeing six members of the gang.
He said: "On 08/06/2017 at about 0445hrs while Dragon patrol 02 was on stop and search between Issele –Uku and Ubulu –Okiti along Asaba/Benin Express road, our men received a distress call that seven armed men blocked the road around Onicha-Ugbo Junction, hijacked a Young Shall Grow luxury bus, registration number, Lagos FKJ327XM, robbed the occupants and drove off the bus."
"The team immediately swung into action and chased the vehicle to Issele-Azagba Junction. One of the suspects was demobilized by the team and was arrested with gunshots injuries on the legs while others escaped.
"The passengers identified the recovered items and the suspect. The exhibits recovered from the arrested suspect include a bag containing 17 handsets, 14 wrist watches, 5 necklaces, 5 rings and one car radio, 2 pairs of shoes, one drilling machine, 2 pairs of trousers, one Jean shirt, one Baby Lotion and 3 bottles of perfumes," he asserted.