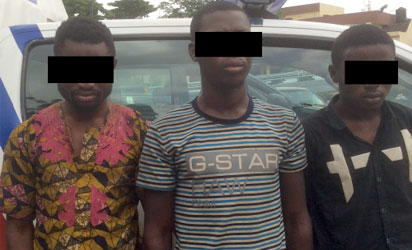 The suspects
By Olasunkanmi Akoni
LAGOS—A notorious robbery suspect, Kazeem, arrested by the operatives of Rapid Response Squad, RRS, of the Lagos State Police Command, has narrated how his gang specialised in placing orders for phones online, and then rob the delivery men.
He also confessed to have shot an RRS police officer in LASU/Igando area, saying he learned his shooting skills as a cultist.
Arrested along with Kazeem were: Bello, 33, the gang's armourer from who two guns and machetes were recovered, and Hassan, 26, the gang's motorcycle rider.
Kazeem, popularly known as Onyabo, 27, a trained tailor turned-commercial motorcycle rider, was arrested in connection with the shooting of an RRS officer investigating chains of robbery cases in LASU/Iba/Igando area.
Nurudeen had shot the officer in the leg, while trying to dispossess a delivery man of some expensive phones one of the gang members had ordered online for delivery at a specific address in LASU-Iba Road.
Nurudeen reportedly confessed that he shot the police officer twice in the leg to avoid arrest.
Initiation
He added that he was trained to kill by cult members after his initiation into Eiye Confraternity.
Onyabo confessed: "I have killed two people in the past. One was to complement my initiation into Eiye Confraternity. I was led to a beer parlour in LASU/Iyana Iba axis, where I was showed a man to kill. I shot the guy there and I escaped.
"I killed another guy. After shooting at him, I also used a machete on the victim, who was a member of an Aye Confraternity in LASU/Iyana Iba area.
"A friend and I were forcefully initiated into Eiye. We were asked by some guys to use our Okada to take them to a naming ceremony.
"Those guys changed the route after bringing out guns to scare us and led us into a bush, where other innocent guys were to be initiated into the confraternity.
"In the bush, they beat us mercilessly. That was how we were initiated. Since then, they armed me with gun and cartridges to kill people, particularly rival cult members. It was while doing this that I was invited into robbery by Cali (Ehis).
Operations
"He invited me to assist him in collecting phones from delivery men. He orders phones online and gave them an address. We then ambush the delivery men and collect the phones at gunpoint."
Ehis, 30, was re-arrested by the operatives after the arrest of Nurudeen.
According to investigations, he had been the brain behind several robberies in LASU/Iyana-Iba and Igando areas.
Sources revealed that Ehis and his gang members lodged in different hotels around the area.
Ehis, from who a shot gun was recovered in April, in company of three other accomplices, had confessed to the police that he hired Kazeem to help him rob delivery men of phones.
According to Nurudeen, "I have done this three times for Cali. I took the phones to him in his hotels, where he lodged. For the first operation, he gave me N60,000. The second, he gave me N50,000 and the third, N45,000.
"The fourth one was the one I shot the police officer. I never knew he was a police officer."
All the suspects have been reportedly transferred to the Special Anti-Robbery Squad, SARS office in Ikeja for further investigation.