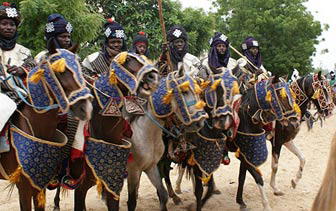 Durbar in one of the emirates.
A man Travis Wagner has pleaded guilty to a pair of misdemeanour charges of trespassing and sexual intercourse with an animal. Buhari welcomed by horse riders on arrival at the passing out parade of the cadets
The 22-year-old admitted having sex on several occasions with a miniature horse several times after sneaking into a barn in Ephrata, Lancaster County, Pennsylvania.
Wagner was however, spared jail but must instead pay a fine and stay away from his brown and white victim and its family.
He was caught after the horse's owner contacted police to report a man driving a Dodge pickup truck had been trespassing on his property late at night.
The owner said he saw a man had gone into his barn, which "houses cattle and a miniature horse".
When quizzed by cops, Wagner confessed he had entered the barn to have sex with the miniature horse on at least three occasions.
According to the Mirror, the culprit was sentenced to two years probation and ordered to pay nearly $1,700 in fines and court costs.
He was originally facing counts of burglary which is a felony which carries a maximum penalty of up to 10 years in prison but thanks to a plea deal with prosecutors.