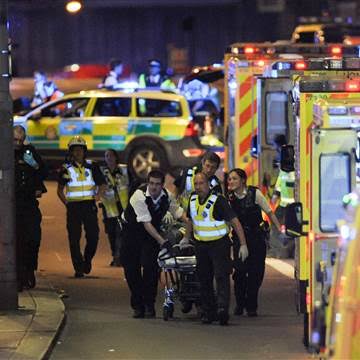 London Bridge attacks
As three assailants sought to strike fear at the heart of the British capital on Saturday night, some Londoners showed incredible courage and fought back.
Taxi driver Chris was on London Bridge as the attackers smashed their van into pedestrians around 10:00pm (2100 GMT) before sprinting, armed with knives, towards nearby bars packed with revellers.
"I saw a young girl being stabbed in the chest," he told LBC radio, recalling how the three "went randomly along Borough High Street stabbing people".
"I said to the guy in my cab I was going to try to hit him, I was going to ram him. I turned around and tried, but he side-stepped me," he added.
The attack took place a few minutes after the end of the Champions League final between Real Madrid and Juventus and many fans were watching the football on television in some of the trendy area's bars.
Gerard Vowls, 47, was heading home after watching the football at the Ship Pub in Borough when he saw a woman being stabbed 10 to 15 times.
"She was going, 'Help me, help me' and I couldn't do nothing," he told the Guardian newspaper.
Distraught, he followed the attackers to Borough Market — a food market that dates back centuries and is housed in an elegant 19th century structure — and started throwing whatever he could find at them including chairs, glasses and bottles.
"I know it was a silly thing to do but I was trying to save people's lives," he said.
He said the attackers chased him after he managed to hit one of them in the back with a chair.
"I knew if I slipped over I'd be a dead man, I'd be killed there and then," he added.
Seven people were killed and nearly 50 more were injured in the rampage.
The three attackers were shot dead by police outside the Wheatsheaf, a trendy pub on the edge of the market.
Just like the people of Manchester — struck by a suicide bombing which killed 22 people less than two weeks earlier — Londoners rallied together.
Many took to social media, opening up their homes to stranded people while taxi drivers ferried people out of the London Bridge area as quickly as possible.
Dozens of people were also seen sleeping on the floor in the reception area of the Ibis hotel in nearby Blackfriars.
"This is our city," London Mayor Sadiq Khan said after condemning the "cowardly" attack.
Striking a defiant tone, Khan warned that the British capital "will never let these cowards win and we will never be cowed by terrorism".