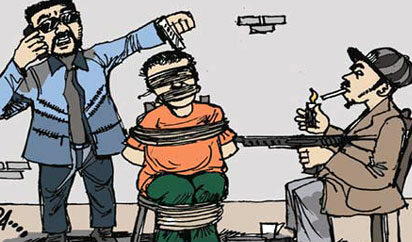 Kidnap
…Govt constructs watch tower, other measures
…Students appeal to abductors for colleagues' release
By Evelyn Usman
lagos—Academic activities at Lagos Model College, Igbonla, Epe, resumed yesterday, 10 days after six Senior Secondary School students were kidnapped by militants.
There was however low turn out of students as some parents, as reliably gathered, have decided to withdraw their children and wards from the school, owing to frequent  abductions in the last eight months.
Those who resumed yesterday were mainly SSS 3 students who are writing the National Examinations Council. Teachers were sighted going about their normal activities while SSS 3 students were said to be taking physics practical for the NECO examination.
Principal of the Senior School, Mr Bajo Olugbenga, expressed optimism that more parents will bring their children and wards shortly.
Construction of watch towers
Besides, an ongoing construction of security watch-towers at the college was observed. The watch towers which is the initiative of the state government, when completed would be mounted with surveillance cameras that will be manned 24 hours, with a view to picking intruders from afar before they wreak havoc.
Apart from the watch towers, the perimeter fence was also being illuminated with forty 250 watts halogen lamps, for security survey throughout the night. Bush adjoining the perimeter fence have also been cleared. There were also vehicular and foot patrol policemen within and around the school.
Permanent Secretary, Ministry of Education, Mr. Adesina Odeyemi and the Tutor-general / Permanent Secretary for the district, Mrs Margaret Solarin were both at the school yesterday, for first hand assessment of the situation.
Also, the Commissioner of Police, Mr. Fatai Owoseni and Divisional Commander of Neighbourhood Safety Corps, Mr. Semi Lateef also visited.
Owoseni, who assured that security agencies were working round the clock to ensure the safe return of the abducted students, said caution was being applied over the use of force in the rescue operation.
Students appeal to kidnappers
Some of the student, particularly those in SSS 3 appealed to the abductors to release their mates, in order as to allow them write the NECO examination. They reminded the abductors that the students with them were innocent and could not have contributed to the reason why they took to kidnapping.
One of them who spoke on the condition of anonymity said: " We are begging them in the name of God to release our class mates. Some of them are supposed to be writing NECO examination. We are appealing to them to release them unhurt to their parents and the school. They are only children who did not contribute in anyway to whatever is their grouse".
A situation report on the school, signed by the Assistant Director, Ministry of Education, Adesegun Ogundeji said: " Teaching and learning activities resumed at the college, Monday following the expiration of the midterm break. There was calm and serenity. There was no sign of apprehension or anxiety in the staff and students who were seen going about their normal activities. SSS III Science students were seen having their physics practical for the NECO examination.
Since the kidnap of six students from the school on Wednesday, May 24, there had been heavy security presence in the school to ensure safety of the students."