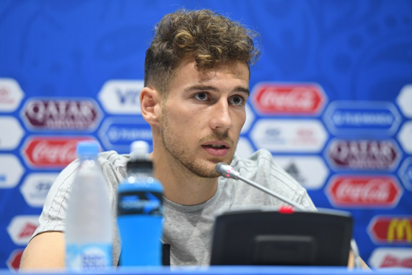 Goretzka
Germany's rising star Leon Goretzka on Saturday brushed off reports that Arsenal are set to swoop for the midfielder who has impressed at the Confederations Cup.
With Germany's World Cup-winning stars all rested for the Confed Cup, the 22-year-old is one of those who has seized his chance to shine in Russia.
He is set to face Cameroon on Sunday in the final Group B match with Germany on the verge of the semi-finals.
The Schalke midfielder scored in Germany's opening 3-2 win over Australia in Group B, then put in a strong display in Thursday's 1-1 draw with Chile.
He has a year left on his Schalke contract and Goretzka insists he is fully focused on the Confed Cup.
However, with Juventus, Bayern Munich and Tottenham Hotspur also said to be interested, reports from the UK claim Arsenal are preparing a 21 million pounds ($26.8m) bid for him.
"I do not really want to say anything about the transfer rumours, I'm focusing on the Confed Cup," he said in Sochi.
"I'm not going to give state-of-play updates, but if there are facts, I will announce them.
"I'm not the type to be impressed by newspaper reports, I know what my qualities are, but I will not build myself up."
If he joins the Gunners, Goretzka would be Arsenal's second off-season signing from Schalke after Bosnia defender Sead Kolasinac left earlier this month.
Christian Heidel, Schalke's general manager, says they will not let Goretzka leave before his contract expires in June 2018.
However, Germany's head coach Joachim Loew revealed he has spoken to the midfielder about his future.
"I had a long chat with Leon before the Confed Cup about various scenarios and opportunities," said the Germany boss.
"I gave him my thoughts, which I won't share here, and we've blended the transfer rumours out at the Confed Cup.
"He has done very well here and is intelligent enough to take the right steps (for his future)."