By Gabriel Enogholase
BENIN—An Edo State High Court sitting in Benin City has granted an order of Mandamus compelling the Edo State Police Command to locate and arrest a traditional ruler (name withheld) who is a judgment/debtor/contemnor in a case between him and a retired Assistant Commissioner of Police, Mr. John Asemota and commit him to prison as earlier ordered by the court.
The trial judge,  Justice A. N. Ehigiamusoe, also ordered the Police to exercise their legal duty to conduct a thorough, prompt, independent and impartial  investigation into the petitions to the Commissioner of Police by Mr. Asemota, the applicant in the case, on the destruction of his other property .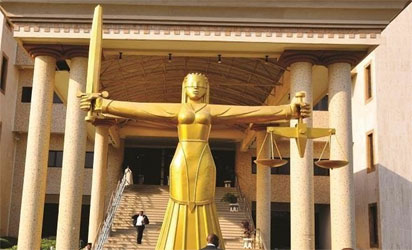 The court also ordered the Police to arrest and prosecute all suspects found culpable in the criminal trespass on the land and destruction of the economic trees and other property belonging to the applicant measuring approximately 20,404 hectares, situated at Ogheghe village, along Benin- Sapele Road.
The order also compelled the Deputy Head Sheriff, High Court of Edo State, to locate, attach and  sell off all immovable/movable property of the judgment/debtor/contemnor in order to satisfy the judgment debt granted by the court.
The court, in its judgment, also granted an order to Mr. Asemota to recover possessions of all the parcels of land measuring 20,404 hectares lying and situated at Ogheghe village along the Benin – Sapele Road and delineated by a survey plan No ISO/ED/732/95 and covered by a Certificate of Occupancy with EDSR 1964 and registered as No 47 at Page 47 Vol. B. 265 at the Edo State Land Registry, Benin.
The judgment was sequel to the suit by Mr. John Asemota, challenging the destruction of his economic and landed property by unknown persons.