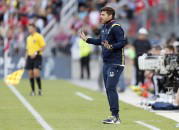 Pochettino
Tottenham executive chairman Daniel Levy on Thursday declared manager Mauricio Pochettino would be staying at Spurs next season, saying: "I'm sure he's not going anywhere".
The Argentine's future has been the subject of speculation after Spurs secured second place in the English Premier League behind champions Chelsea, with Barcelona and Inter Milan reported to be among those interested.
But Levy responded swiftly when asked about Pochettino's future by reporters in Hong Kong, where Tottenham will play a friendly on Friday.
"Is he going somewhere?" Levy said, pointing out Pochettino who happened to be sitting in the front row at a press conference called to announce an improved shirt sponsorship deal with Hong Kong-based life insurance giant AIA.
"Look he's here. Sitting right with us here," said Levy. "I'm sure he's not going anywhere. He loves us."
The 45-year-old Pochettino first cut his coaching teeth in Spain with La Liga club Espanyol, for whom he also played as a central defender, and then at Premier League side Southampton.
Pochettino last week had guaranteed that he would be at the club next season, adding he could not leave in any case because: "There is no buyout clause in my contract."
"I will stay here next season," Pochettino told reporters before Tottenham's 6-1 victory over Leicester a week ago.
"There are many rumours, but I am committed with the club, no reason to leave the club. I will be here for pre-season on July 3. Don't worry."
Levy announced in Hong Kong that AIA would now be known as the club's "global principal partner" and that the AIA logo would be emblazoned across Tottenham's shirts in all their matches until the end of the 2021-22 season.
No cash figures were revealed for the size of the new sponsorship deal, but it is certain to exceed the club's previous deal with AIA signed in 2014 which was widely reported to be worth $20 million a year.
That would pay for a sizeable part of Tottenham's new 61,000-seater state-of-the-art stadium currently being built, which is reported to be costing around $1 billion.
Tottenham will play newly crowned Hong Kong champions Kitchee SC on Friday night and their fans in the southern Chinese city will see a full-strength squad featuring stars such as Harry Kane, Dele Alli, Christian Eriksen and Hugo Lloris.
There was good news for Spurs fans in the region as Levy announced that, as part of the new deal with AIA, the club will bring their first team back to Asia on "a number of occasions" during the next five years.